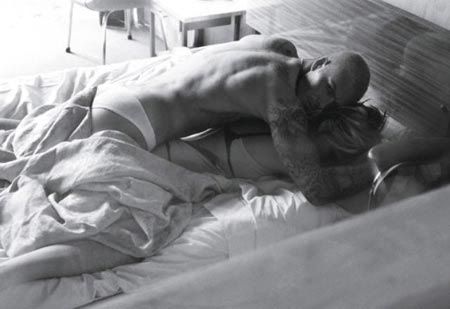 I haven't been able to get a decent night's sleep in at least a week. I have no idea what's changed, but suddenly I'm awake for hours in the middle of the night. Last Wednesday, I was having weird dreams about Avril Lavigne trying to make soup out of me. Last night, it was about the New Kids on the Block reunion. Somehow they'd turned it into a reality show, and I was the judge, but there were weird sexual overtones and an oddly big microphone. And I have a feeling that tonight's nightmare will most likely feature incredibly scary images of Victoria Beckham, naked, having sex, and in some way impaling me with her pointy scissor legs. Why? Because I've just learned that the image of Posh's husband, David Beckham, is being used to promote a brand of Chinese condoms. They're not actually endorsed by Beckham – in fact it appears many of the Chinese people are rather mortified, as they really like the soccer star and don't want to offend him. But just putting his face on the box has made it the number one selling condom in China. Something tells me they didn't use one of the "seductive" photos that also features Posh.

A Chinese firm is using soccer star David Beckham's name to promote its brand of condoms - without his permission. The firm is claiming men who use the Beckham contraceptive - which has become the best-selling in China - will score in bed like the L.A. Galaxy star does on the pitch.

But fans in the country are calling for a ban on the condoms - because they don't want to offend the British sportsman.

A fan explains, "We do not want Beckham to think the Chinese people are disrespecting him. We love him here." A spokesman for Beckham says, "It's not an official brand."

[From PR-Insider]

Does using Beckham's condom mean you have to think about Posh when you're having sex? I'm pretty sure that would kill nearly any intimate moment. I'm not sure it's the smartest long-term move by that condom company - I would think that'd knock your sales down by at least thirty percent. Can you imagine the injuries that implants that hard and pointy could cause? Jokes about poking an eye out aside – you really could end up with some sort of spleen puncture or something. Considering the Beckham's "business savvy" (i.e. ability to make a lot of unnecessary cash from sticking their pictures and names on random products) I'm pretty sure we'll end up with "Intimately Beckham" condoms here by the end of the week. In other Posh/David news, "Intimately Beckham" was on sale for 15% of its original price at my local Target yesterday.

PICTURE NOTE BY CELEBITCHY: David and Victoria Beckham are shown in a spread in W Magazine that came out last summer, and in an ad for their perfume.