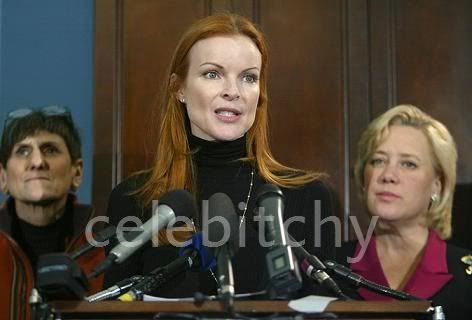 It's interesting to hear what different actors decide to do with their time off during the writer's guild strike. I have a feeling there's a lot of kicking back and vacationing going on. But some of the more civic-minded celebs have been volunteering or championing social causes. Desperate Housewives actress Marcia Cross has jumped on board the women's advocacy bandwagon and joined several prominent congresswomen (and a few men) to lobby for the Breast Cancer Patient Protection Act of 2007. The bill mandates that women have the right to spend at least 48 hours in the hospital after having a mastectomy. Currently many women are forced by their insurance providers to be sent home the very same day. The bill has been languishing in congress for almost a dozen years.

One in eight women are diagnosed with breast cancer in their lifetime," Cross said. "I've seen it up close and personally. I'm sorry to say I don't have a friend, but friends who've been diagnosed with breast cancer, and when I first heard about drive-by mastectomies I was shocked."

Cross said for her part, she would like Hollywood to get more involved with the issue. She said roughly 20 million people a week watch ABC's Desperate Housewives, the same number who signed the petition, and television can be a powerful medium. Her show already has a character with a different kind of cancer, but she said she'd suggest other shows, such as Grey's Anatomy, dedicate an episode to drive-by mastectomies.

"I don't want this to be a one-hit day," she said after the news conference. "I really want to raise awareness and get this done after 12 years. I don't want it to go another five or 10."

[From the Baltimore Sun]

The Lifetime network has been pushing the bill for quite some time, and has a petition you can sign on their website. Marcia Cross is one of those actresses that always seems to have her act together. She has a master's degree in psychology – not something a whole lot of celebrities can claim. It's great that she's using her celebrity to bring attention to important issues.

Picture note by Jaybird: Marcia Cross at a news conference to raise awareness of the Breast Cancer Patient Protection Act. Cross delivered 20 million signatures collected online that urge Congress to pass legislation to stop "drive-through" mastectomies yesterday. Images thanks to WENN.