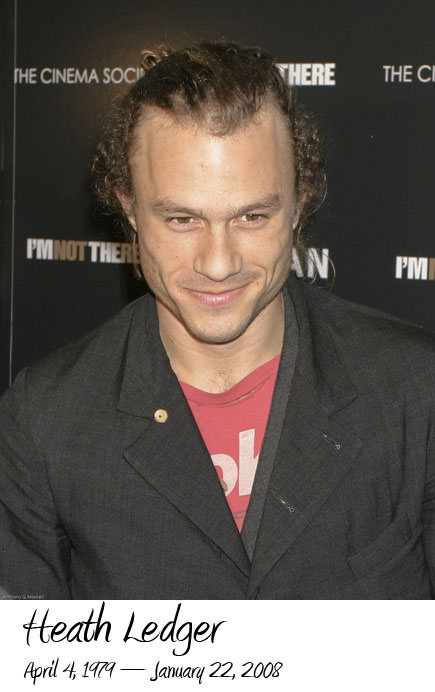 I debated all day about publishing this story. Given how empathic our readers have been towards Heath Ledger and his family, I wasn't sure if it would be too upsetting to read this story. There's nothing inflammatory, nor is there any speculation; it's just hard to think about. So with that caveat, police are reporting that a con artist posed as Heath Ledger's father, Kim Ledger, in order to trade on Health's name and get free stuff.

…police were still trying to find a twisted impostor pretending to be [Heath's] grieving father. The imposter cruelly duped superstar Tom Cruise into consoling him over the phone – and nearly got John Travolta to buy him a plane ticket to the United States, sources told The Post.

The sick scammer also suckered the Frank E. Campbell Funeral Home in Manhattan, where the tragic actor's body was held before being flown to Los Angeles, into booking him and his "family" rooms at the ritzy Carlyle hotel nearby on Madison Avenue, sources said. The hoaxer even got them to send free stuff to their rooms "when nobody was there," a source said.

And the man falsely claiming to be Kim Ledger spoke on the phone with the doctor who performed the autopsy on the "Brokeback Mountain" star, a spokeswoman for the Medical Examiner's Office confirmed.

[From the New York Post]

The major media outlets are reporting that the police have no idea who the con man is. I'm guessing they've got some ideas and are just playing it close to the vest. I mean the man stayed in a hotel, they've got to have some video. And it's logical to assume hotel employees would remember someone who's supposedly Heath Ledger's dad. Police had detectives at Ledger's funeral hoping they might find the con artist but didn't have any luck. They also say the man tried to get Mel Gibson and Christian Bale's telephone numbers from one of the celebrities he conned. This story is incredibly sad and the last thing the Ledger family needs to deal with. Unfortunately it's not that shocking. There are all sorts of con artists who prey on people overcome with grief. Considering all the press this story has gotten today, I'm guessing the NYPD is working overtime to find the guy.