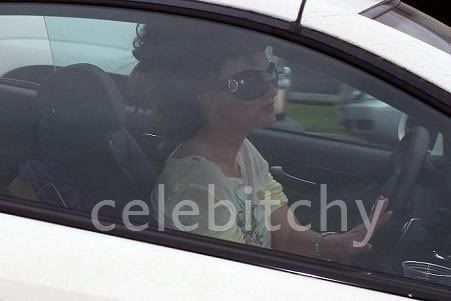 I sometimes feel conflicted about the whole Britney Spears story. I don't think it's necessary that people report on every little crazy detail of her life, but sometimes her behavior is so bizarre, random, and fascinating that you can't help but be interested. Case in point: on January 7th (the Monday after Britney's crazy breakdown that landed her in Cedars-Sinai medical center) she showed up at a Beverly Hills elementary school. The "scantily clad" singer pulled into the school's parking lot a few minutes before 3 o'clock and got out. She was smoking cigarettes and talking to herself. I'm pretty sure you're not allowed to smoke on school property, though that's probably the least freaky thing she did. She then told a witness that she was there to pick up her kids. Keep in mind her two sons are both under the age of three and obviously don't go to elementary school yet.

"She was just rambling and confused," says the witness, who approached Spears to ask if she was OK. "She said, 'I'm here to pick up my kids.' But then she changed her story and said, 'They aren't my kids; I have a new attorney, and I came to pick them up for her.'"

Adds the witness, "All I could think was, Who in their right mind would let her pick up their kids?"

As children began to leave for the day, the star, 26, caused a commotion — "It became the talk of the school. Some of the kids were freaked out," says a school source. She was directed to a more secure entrance around back. But before getting into her car and driving off (without any children), she chatted up the female witness: "She said, 'You're so nice. You should give me your number. I don't have very many friends.'"

[From Us Weekly]

This is probably one of the least crazy things Britney Spears has ever done. I'm kidding. But sometimes it's these smaller incidents that really give you a picture of how crazy Britney is. And it makes you wonder how much of a danger she may be. This incident happened on January 7th, right after Britney lost custody of her kids on January 4th. What in the world was she doing there? Was she just looking at kids? Would she have tried to take one? I'm not saying she'd get very far – it's not exactly like Britney Spears can blend in to a crowd – but that doesn't mean she can't attempt crazy things. Don't forget this is a woman who three days prior held her own kid hostage. It's not okay when you're a danger to your own family. But it's just as problematic when you're a danger to the community. No one should be held captive to Britney Spears' whims. Showing up at an elementary school and freaking out little kids is not okay. You'll note that the kids weren't described as excited to see Britney Spears. They were scared. That says a lot about her behavior.

Picture note by Jaybird: Britney Spears on a little road trip to Petco in Beverly Hills. Britney sent her assistant into Petco to pick up some pet supplies while Britney drove around and around and around the block before heading home yesterday. Images thanks to Splash Photos.