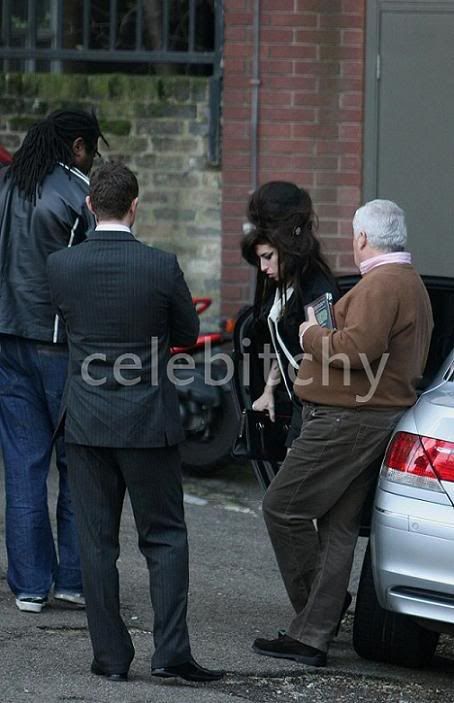 It seems like Amy Winehouse doesn't believe in hiring a bunch of people to do all her errands for her. Which could be a good or bad thing, depending on your view. The woman has never had a driver, instead preferring to be photographed hailing cabs in bloody ballet shoes. We've seen her carting furniture home from stores with the help of friends, and moving her belongings from one home to the next with the assistance of family and a U-haul. On the one hand it's nice to see a celebrity who doesn't have a team of hired hands. On the other, it might prevent so many of Amy's bizarre antics from reaching the front page of The Sun.

Kelly Osbourne, one of Amy's good friends, has publicly said that she's there to help Amy whenever she's ready for rehab, and apparently she meant it. Kelly was seen carting Amy's belongings into the Marylebone treatment facility with the help of Amy's ever-present father Mitch.

Along with Amy's father Mitch, Kelly arrived laden down with Amy's belongings, which she'd collected for her from her flat in Bow, east London.

She brought two suitcases and two large holdalls, suggesting that Winehouse, 24, might be staying at the centre for quite some time.

[From the Daily Mail]

The article goes on to say that one of the reasons Amy finally agreed to go into rehab was that Mitch Winehouse told her he'd looked into getting her sectioned under the Mental Health Act. However Amy didn't qualify – but apparently hearing that her parents were willing to go to such lengths was part of her impetus to finally go to rehab.

He said psychiatric help was "something we have looked at, and Amy is no way near in a position to be sectioned". He added: "But unless she wants to do it of her own accord, it's pointless. You can't lock the key and say 'you can't come out before you're better'. That's called abduction."

Mr Winehouse described the pictures from the drugs video as "horrible", adding: "Her intake had been much reduced, but there are people around her which I have no control of. I can't physically remove them. She doesn't think she's got a problem. She thinks she can do what she does recreationally and get on with her life."

Mr Winehouse called a family meeting last night to discuss keeping a close eye on Amy to try to save her from self destruction.

[From the Daily Mail]

Well at least she's in rehab. It is worrisome that she appears to have gone mostly at the urging of her family and the perhaps threatening of her record label. Unless Amy really admits that she's got a problem, rehab won't do much. But you never know if at some point in the process, she may realize it. It seems like things certainly can't get worse by going to rehab. She'll be away for her loser husband and hopefully the group of ne're-do-well friends her father rightfully despises.

I wonder if she'll ever sing her hit "Rehab" in concert again?

Picture note by Jaybird: Amy Winehouse will do her rehab stint at Cappio Nightingale Hospital in London's Marylebone according to WENN. Photos of Amy and her father Mitch Winehouse leaving the Universal Records office after attending a 2 1/2 hour meeting with Amy's record company yesterday. Images thanks to WENN.