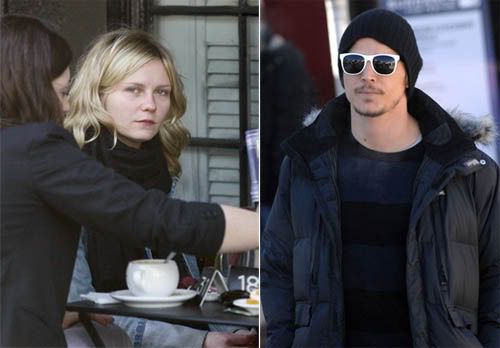 It never ceases to amaze me the celebrity couple combinations that are possible. In a way it seems like a massive incestuous free-for-all, but maybe that's because there are only so many famous people in that age bracket along with the fact that the tabloids like to act like two people of the opposite sex are together whenever they talk to each other at an event.

I was trying to figure out if Josh Harnett and Kirsten Dunst were ever supposedly together, and they did play lovers in the 2000 film The Virgin Suicides along with being spotted making out over three years ago at a club. Everything old is new again, or at least smooch-worthy, because Josh and Kirsten were seen swapping spit at a Sundance party:

Josh Hartnett - showed up at Hyde-Sundance with his old Virgin Suicides co-star Kirsten Dunst on his arm. The two took over a couch in the lounge and proceeded to make out like crazy! They remained in an almost-perpetual liplock until 4 a.m.

[From The National Enquirer, print edition, Hollywood After Dark section, February 4, 2008]

Making out on a couch for hours at a club strikes me as either something you'd do when you lived with your parents or were cheating on your live-in significant other. You would also presumably not have the time or money to rent a room. So these two have little or no excuse apart from inebriation, laziness, and/or exhibitionist tendencies. Just go to the hotel already. Or not, so we can gossip about how you carried on in public. Horny bastards.

Kirsten Dunst is shown having lunch with friends on 1/17/08. Josh Hartnett is shown in Park City, Utah on 1/23/08. Thanks to Splash News.