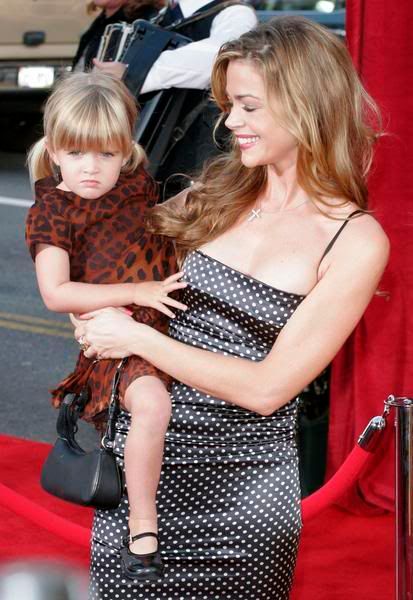 It's funny to think that guys like Kevin Federline and Charlie Sheen are looking like better parents than their former wives. I mean Charlie Sheen was one of Heidi Fleiss' most famous clients. So if anyone would know about the ups and downs of pimping, it would be Sheen. He tried to stop his ex-wife Denise Richards from pimping out their kids by featuring them on her upcoming reality show. Despite his objections, the court commissioner decided that Richard's could go ahead with her plan.

Now, notorious bad boy Charlie seems to be a more sensible caregiver than his ex, Denise Richards. Only Charlie isn't doing as well as K-Fed at the courthouse.

TMZ reports that despite Charlie's objections, a court commissioner granted Denise permission for the divorced couple's two daughters to co-star in her upcoming reality show. Appropriately enough, Charlie seems no way OK with subjecting Sam, 3, and Lola, 2, to constant public scrutiny. Meanwhile, despite certain undisclosed restrictions applied to the court ruling, Denise is "very happy" with the court's decision, according to the Web site.

[From MSNBC]

Apparently Denise is doing the show with Ryan Seacrest, though what role Seacrest will play is unclear. Ryan called Denise "an interesting personality." I'm calling Ryan a bold-faced liar.

Mega mogul Ryan Seacrest revealed that he is in talks with Denise Richards to film a reality TV show about her life. The American Idol host and radio personality told Extra that he finds Richards "an interesting personality."

"We've been in talks about doing a series with her. I don't know if the kids would necessarily be involved. It would be about her, if we do this, and her life. And what she wants to do with it, with her career."

[From OK!]

I think this show actually sounds like a fabulous idea, because it'll put that final nail in Richard's career coffin. She's got as much personality as a bag of gummy worms. As dull and terrible as anything with her in it would be, I really do worry for her kids. I have never seen so many pictures of two little girls who always look miserable. Catching them in a smile seems incredibly hard. I'm sure having two angry parents doesn't do much for your happiness, nor does it encourage a fulfilling, carefree childhood. But having those two parents be Charlie Sheen and Denise Richards? That's probably the one thing that could make it worse.