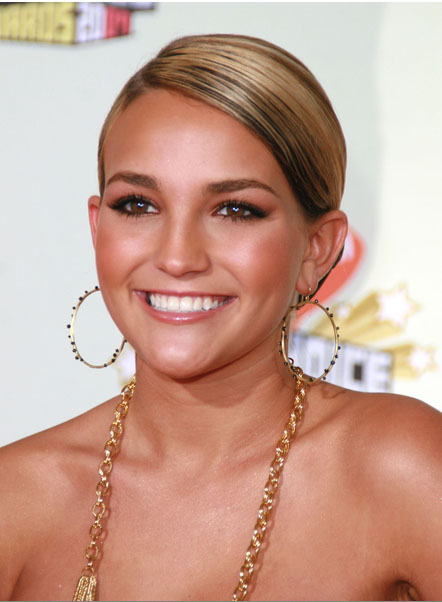 Lynne Spears' phenomenal parenting reign continues. Though I'm sure it's very hard to control your kids when they have a ton of their own money, I'm sure there's a way to do it. And I'd agree that it's probably extra hard when they're sixteen and pregnant. But if there's any time to figure out how, that would be it. According to Life Style, Jamie Lynn Spears is drinking and smoking while pregnant. While it's shocking in theory, it should be that surprising considering the epic standard set for her by older sister Britney Spears.

"She's been going out with her friends recently and staying out late," LS's insider said of the approximately 4 ½-month pregnant teen. "Her mom and dad are both worried that Jamie's late-night partying isn't good for her — or her child." While Jamie Lynn returned to mom Lynne's Kentwood, La., home for support during her pregnancy, the "Zoey 101" star is ignoring any motherly advice. "Jamie Lynn continues to break every rule Lynne makes," a family friend shared with the magazine, "and there are no consequences."

According to LS, some speculate that along with her partying, Jamie Lynne may still smoke and drink. Dr. Steven Sherwin, an ob-gyn that doesn't treat Jamie Lynn, told LS that even a half a glass of wine is unsafe for pregnant women, and smoking can cause low birth weight. What's more, the magazine points out that doctors often advise pregnant women to avoid stress — something Jamie Lynn has lots of. "Everything in Jamie Lynn's life is causing stress right now," another insider told LS. "She's worried about her career, her relationship with Casey (the baby's father) and being a mom at 16."

[From MSNBC]

It's sad that a sixteen year old girl would have to worry about her career. Of course it's even more sad that she'd be pregnant… and even sadder that she might be drinking and smoking. More women than I'd expect seem to think an occasional glass of wine while pregnant is fine. Several celebs have been photographed drinking in public while with child. Considering all the things Jamie Lynn has working against her, I would think it'd be a good idea if she could lay off the sauce for four and a half more months. Or do something really dramatic for a Spears woman… wait until she's 21.

UPDATE BY CELEBITCHY: I don't think this story is true. The main reason is that Star Magazine ran a story last week about Kevin Federline possibly writing a tell-all and included a blurb about how Jamie Lynn was smoking and drinking at the beginning of her pregnancy before she knew she was expecting. It looks to me that Life and Style took that article and embellished it to say she's drinking and smoking now, which I doubt to be the case. JayBird doesn't pour over the gossip rags like I do and I don't blame her for reporting this story. Here is what Star had to say about this last week, and it sounds suspiciously similar:

Kevin could dish, sources say, on how Jamie Lynn has already endangered her unborn baby girl. "Jamie Lynn has been drinking and smoking since becoming pregnant!" says a friend of Kevin. While Jamie Lynn's publicist says that "both claims are completely false," the friend insists otherwise: "For a while, she had no idea she was expecting, so she went about her normal life, which included drinking with friends and smoking cigarettes."

[From Star Magazine, print edition, January 28, 2008]

Picture note by Jaybird: Here's Jamie Lynn and mother Lynne Spears the LA Airport on 10/6/07, thanks to Splash News. Header at Nickelodeon's 20th Annual Kids' Choice Awards on 3/31/2007.