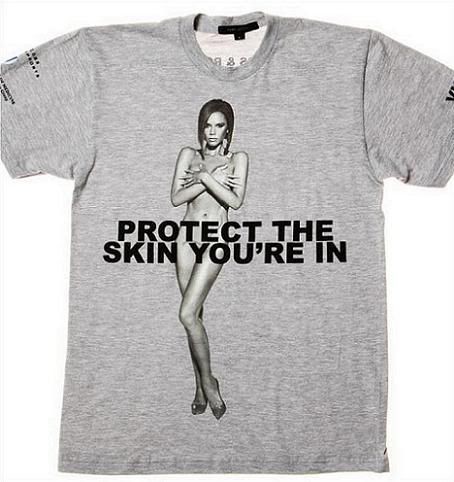 I love irony. Speaking of which, always perma-tanned-to-the ugliest-shade-of-orange-you've-ever-seen-in-your-life Spice Girl Victoria Beckham has joined forces with designer Marc Jacobs to create an anti-skin cancer t-shirt for the Interdisciplinary Melanoma Cooperative Group. Wait, this isn't irony so much as it is hypocrisy. I'm assuming it's actually like those anti-smoking ads that feature people who just couldn't quit – and they're smoking a cigarette through their surgically-created neck hole. So Posh is basically their stoma.

Despite her recent foray back into global pop stardom, Victoria Beckham has still managed to find time to strip off and pose nude for a new designer campaign. Covering her modesty with her hands and the caption "Protect the skin you're in" Posh Spice is the official face of a T-shirt created by Marc Jacobs to raise awareness of the damage sun can do to skin.

Although it is sure to gain the campaign column inches and a significant following, using perma-tanned Posh could be seen as a bit of an odd choice to be the face of such a cause.

However, the Spice Girl, who has not sported the pale and interesting look since back in the nineties, claims her attitude to skincare has changed since moving to the States. "I have realised how important it is to practise safe sun for myself and to keep the skin of my three boys well protected as well," she says.

[From the Daily Mail]

While I'm guessing the shirts are supposed to be sexy, I think they actually serve as a warning. If Victoria's image were in color instead of black and white, you'd really get the picture. "Stop going to the tanning booth or you could end up looking like this!" While it's good she claims to have had a change of heart and at least covers her kids, Victoria's still looking like she hits the tanning beds. Though I suppose she could just be really good at applying self-tanner. It's going to be really uncomfortable when we see Posh out and about, sporting the shirt which clashed so terribly with her carrot-laced skin.

Picture note by Jaybird: Here's a collection of recent (past six months) photos of Posh. To be fair, anyone would look tan next to Dita Von Teese. Images thanks to PR Photos.