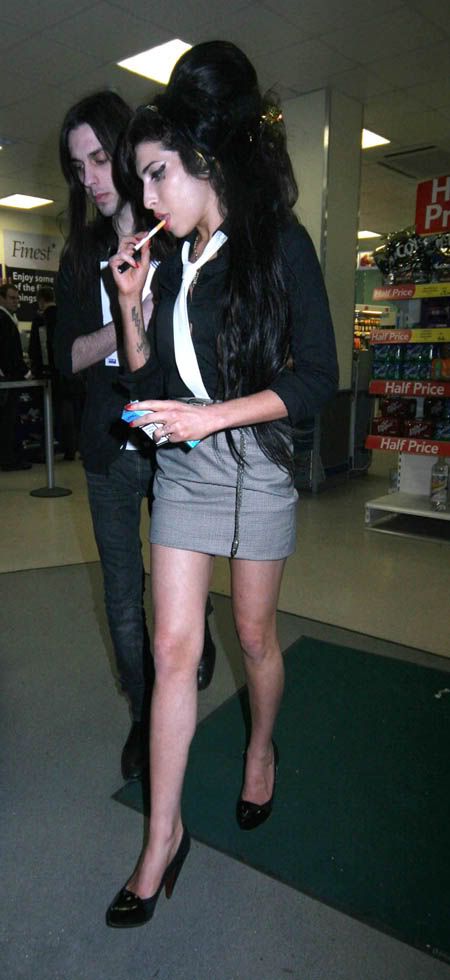 When Amy Winehouse thanked "My Blake, incarcerated" in her Grammy acceptance speech we thought that she was just tenderly making a reference to the fact that she was separated from her husband during his ongoing stint in jail. It turns out she may have specified that Blake was in jail because there's another guy named Blake in her life and she wanted to let everyone know which one she was referring to.

Amy was seen out with an American artist named Blake Wood last night. The British rags say that Amy's friend Kelly Osbourne introduced her to the "new" Blake, and that the guy doesn't do drugs or even drink alcohol. Amy and the new Blake went to two different parties last night, and they are said to have spent quality time together at the Park Plaza hotel in London where The Daily Mail reports that she's been staying.

This isn't the first guy Amy has been linked to during her husband's time in jail. She went on a Caribbean vacation with an ex boyfriend in early January. Her husband Blake was said to have cut his arm in frustration after he heard that Amy jetted off with her ex.

Blake Fielder Civil handed Amy a pleading note when she visited him in jail after her multiple Grammy win begging her not to leave him. Some stories also have him confessing that he had lied about a previous suicide attempt in jail. In the note Blake says he has disowned his family for speaking publicly against his bride and that he hopes they can make their marriage work. Amy's father Mitch said that media outlets could publish the note, and that his daughter approved that the contents be made public in order to show that she is committed to staying with her husband and staying off drugs.

It seems like things change quickly for Amy, or maybe she's just friends with this other guy named Blake. When I first heard this story I thought it was great that she was moving on from her husband, but then I realized that she's only been in rehab for a little over two weeks and that she's already going out at night, presumably staying at a hotel and dating someone new. It all seems too much too soon for her, although I hope it sticks and she is able to get out of that codependent relationship with her husband.

Amy has "Blake's" tattooed over her left breast in a retro design that's reminiscent of a waitresses name tag over a half-pocket with cherries. At least there isn't a last name on there.

Amy and Blake Wood are shown out last night, thanks to WENN.