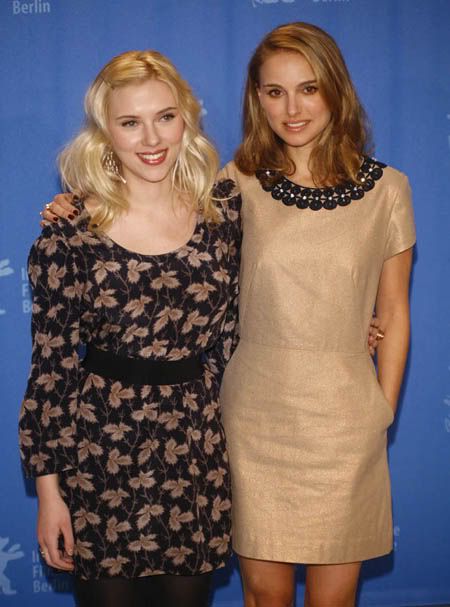 Scarlett Johansson and Natalie Portman are in Berlin promoting their upcoming film "The Other Boleyn Girl," a trashy re-interpretation of the court of Henry VIII. Scarlett and Natalie play sisters Mary and Anne Boleyn, who connive and deceive in order to win the heart of the fat king. I read the book for a book club and although it was probably only mildly historically accurate it was a rolicking good read. There were parts where I felt guilty for reading it because it was so trashy, but that doesn't seem to deter me from devouring the gossip rags every week.

Johansson compared the gossip magazines to the sex and debauchery that were going on in Henry VII's court and said that she tries to keep her life separate from the "circus" that goes along with being famous:

She told a packed press conference after the premiere of "The Other Boleyn Girl" at the Berlin Film Festival that being hounded by paparazzi and having her personal life splashed across celebrity magazines was a high price to pay to make films.

"That's very scary to me and invasive and gross. But that kind of intrigue and frenzy, I guess, could be related to the court in some way -- and the rumours and the gossip and this frenetic, frantic energy that goes into the celebrity culture," she said.

"But would I ever leave because I couldn't take it? I would hope that I would never allow that to affect my professional life. I try not to live in the court, so to speak, and try to separate my private life from this circus."

[From News.Yahoo.com]

Natalie Portman talked about the film in more intellectual terms saying that "Human emotion doesn't change and I think that's one of the hard things for us to imagine is how history might have been sexy and gossipy and scandalous."

It's not so hard to imagine history becoming scandalous. That was a trashy romantic gossip novel disguised as historical fiction. I mean, it wasn't even a mid-brow read.

Eric Bana, who also stars in the film, says that everyone got along on set when he was asked about it, and that "I hate to break it to you but actors generally do really love each other."

Scarlet Johansson said that "you can't be selfish as an actor," and that you're not working alone.

It's a bit ironic that these women are playing in a film that sensationalizes history, but are complaining about how we do that now. It probably was incredibly contentious in Henry VII's court considering how many wives he went through and had beheaded, but you also can't deny that there's a lot of intrigue and things going on now in Hollywood to gossip about.

Johansson knows that if she wants to keep her private life to herself she needs to stay out of the hot spots and she seems to do a pretty good job at that. In that way, she's staying away from "the court," where a lot of people get gawked at and talked about.

Scarlett Johansson, Eric Bana, Natalie Portman, and Justin Chadwick are shown in a photo call today for "The Other Boleyn Girl," thanks to WENN. I really like Natalie Portman's hair. It has grown out to be very soft and natural-looking.