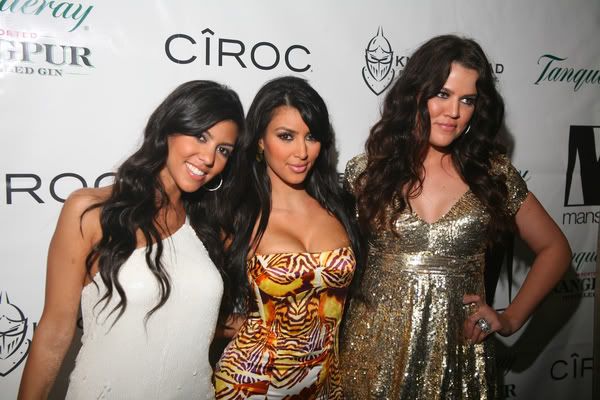 Kim Kardashian has never really done anything that's made me say, "Wow, that girl's good with money." She's done a lot of things that have made me say, "Wow, that girl's got an ass that should be on her chest," but that's about it. And apparently Kim's ass cleavage is the biggest thing she's got going for her, because not only is the girl bad with money, but she's criminally bad. And when you combine bad fiduciary judgment with a ridiculous love of shopping and access to someone else's credit card, things can get out of hand. Not for a regular person, but apparently for a Kardashian. In 2004, Kim was singer Brandy's stylist. Brandy's mother Sonja Norwood, who is also her daughter's manager, gave Kim her American Express card to make one purchase for Brandy. Although it remains unclear, somehow Kim kept the card and continued to make personal purchases on it - totaling over $120,000. Not only that, but she lent the card to her two sisters and brothers. They even wracked up purchases at the Kardashian family's own stores!

RB singer Brandy Norwood's mother filed a lawsuit Monday against Kim Kardashian accusing her of running up more than $120,000 in credit card charges without permission.

The suit, which also names Kardashian's siblings Khloe, Kourtney and Robert Jr., alleges they ran up the charges on the mother's card in 2006 and 2007. It seeks the return of the money plus 10 percent interest.

Kim Kardashian denied the allegations, telling PEOPLE she and her siblings had Norwood's permission to make the purchases.

"We have her signature on all items," Kardashian says.

[From People]

I'm sure she does have signatures for all items. Pretty much all credit card companies require you to sign a receipt. But I'm also pretty sure those signatures aren't really Sonja Norwood's, or she wouldn't be suing the Kardashians I'm assuming that Sonja Norwood didn't keep close tabs on her credit card statements - and if the debt accrued slowly enough, I suppose it's possible a wealthy enough person might not notice. Considering Kim hasn't worked as Brandy's stylist in several years, I can't imagine any excuse she could give for using the Norwood's credit card. It's a little surprising that no one noticed, but I would imagine they probably figured it out a while ago and made other attempts to get their money back before going for a lawsuit.

Kim wasn't just Brandy's stylist - she was also Brandy's brother Ray-J's girlfriend. You'll remember that the two had a very infamous sex tape that Ray-J sold (some say Kim was in on the deal too, though she denies it). Maybe Kim thought she was due an extended shopping spree on the Norwood's dime. The Kardashians are famous due to their deceased father, O.J. Simpson lawyer Robert Kardashian. Considering their legal linerage, I'm surprised they haven't paid up. I doubt they have a leg to stand on - and if nothing else, it makes an already tacky family look that much worse.

Picture Note by JayBird: Here are the lovely Kardashian sisters (left to right) Kourtney, Kim, and Khloe - at New Years Eve at Mansion. Images thanks to PR Photos.