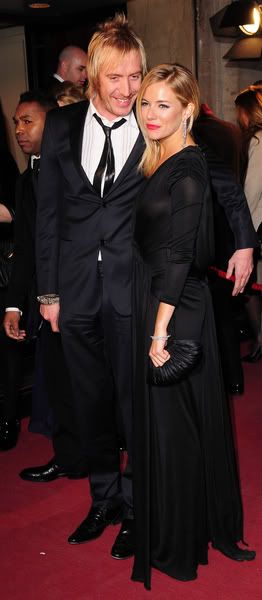 I never thought the day would come where I would say this, but Sienna Miller looked absolutely gorgeous at the British Academy of Film and Television Arts awards last night. She didn't even look like Sienna Miler - at first I thought the photos had been mislabeled. But there's really no mistaking her boyfriend Rhys Ifans. On a few occasions you could definitely see her butt through the rather sheer Dior gown, but this is Sienna Miller after all. Worse things could have happened.

Sienna Miller dazzled at the Baftas last night - dripping in diamonds and wearing a stunning, sheer Dior dress. But the party girl disappointed fans by going home early for a good night's sleep before attending her friend Otis Ferry's court appearance today. She and boyfriend Rhys Ifans sneaked off at about 11.30pm, snubbing both the official afterparty as well as movie mogul Harvey Weinstein's celebration at Bungalow Eight in Covent Garden.

Meanwhile, it was disappointment for Keira Knightley and Julie Christie at the London awards ceremony - both were up for the Best Actress award but lost out to French actress Marion Cotillard. Actor Daniel Day Lewis - who won Best Actor for There Will Be Blood - attended the ceremony along with fellow Best Actor nominee James McAvoy, Orlando Bloom, Daniel Radcliffe and Kevin Spacey.

[From the Daily Mail]

I never thought I'd see the day where I'd say that Sienna Miller looked better than Keira Knightley, but she really did. Keira's dress wasn't a total nightmare, but it didn't really flatter her figure. Here's a quick award roundup. Best Film went to "Atonement," and Best British Film went to "This is England." The Coen brothers won Best Director for "No Country for Old Men," and former stripper-turned writer Diablo Cody won Best Original Screenplay for "Juno." Daniel Day Lewis was given the Best Leading Actor award for his performance in "There Will Be Blood" and Best Leading Actress went to Marion Cotillard for "Le Vie en Rose." Javier Bardem won Best Supporting Actor for "No Country for Old Men," and Tilda Swanson took home the Best Supporting Actress award for "Michael Clayton." Finally Shia LeBeouf beat Sienna Miller and Ellen Page for the Orange Rising Star award, which was voted for by viewers.

Here are pictures from the evening. Pictured are: Daniel Day-Lewis, Emily Blunt, Eva Green, James McAvoy, Jane Goldman, Jessica Biel, Kate Hudson, Keira Knightley, Sienna Miller, Amanda Peet, Cuba Gooding, Jr., Daniel Radcliffe, Eddie Izzard, Hugh Laurie, Javier Bardem, Images thanks to PR Photos.