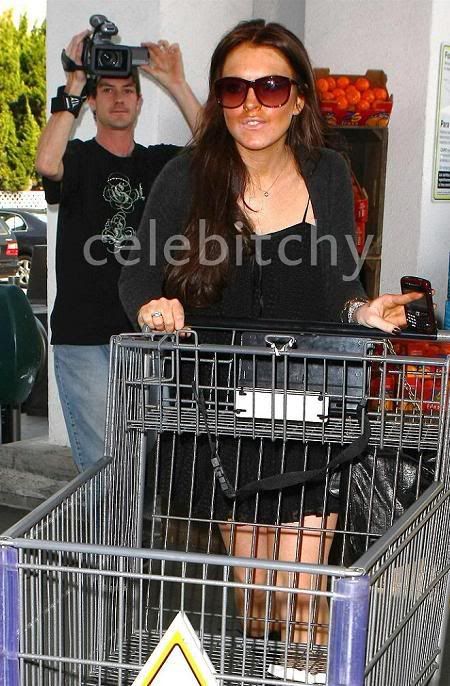 Leave it to Lindsay Lohan to go out of her way to piss off the three people in Hollywood that don't already hate her. Lindsay infamously pissed off just about everyone in the on the cast and crew of her film "Georgia Rule" after she continuously came into work late, drunk, hungover or not at all. Morgan Creek Productions chief James G. Robinson had to send Lohan an embarrassing letter in which he called her"irresponsible and unprofessional" and mentioned her "all-night heavy partying" as the cause of her "so-called 'exhaustion.'" Jane Fonda and director Garry Marshall were livid with Lohan, and rumors flew that she'd been blacklisted by most of the older generation in Hollywood Lohan hasn't put anything out in a while so it's hard to say if that's come to bear. But you'd think she'd take it under advisement and behave in a semi-dignified manner around Hollywood legends, if for nothing else than the sake of her languishing career. But of course logic has no hold on Miss Lohan, and this past week she managed to piss off Clint Eastwood. Never a good decision.

Oscar-winning actor and director Clint Eastwood was just trying to enjoy a pleasant dinner at Madeo in Los Angeles on Thursday night, when Lindsay Lohan and a group of four pals — three men and one woman — seemed to spoil his good time.

According to a witness, the Million Dollar Baby star looked "very upset" at the scene and kept glaring over at La Lohan's table — where, it should be said, no one witnessed Lindz partaking in any alcoholic beverages.

Says the witness: "I heard him tell his friend, 'She brought all those paparazzi. Fifteen of them. Did you ever think we'd see the day with all this? I'm going out the back door so I don't have to deal with all that."

[From OK!]

To be fair, I think it's safe to say that Lindsay probably wasn't going to be starring in any Clint Eastwood films anyway. But heaven forbid she not act as if every moment is all about her. One would assume Lohan was being generally loud and/or obnoxious in some way if they pissed off Clint Eastwood. I doubt the paparazzi was his sole beef with her. Lindsay is one of the top people I would vote out of Hollywood if I could. You never hear a single thing about her being kind, gracious, or considerate of anyone. It's all about what she can get away with and how badly she can behave before she has to check into rehab. She doesn't seem to realize that her behavior off the set also influences her career. The more people are disgusted by her in her daily activities, the fewer opportunities she'll have. At this rate we can probably leave her to her own devices and watch her screw herself out of Hollywood within two years.

Here's Lohan and more of her dirty face makeup. I'm pretty sure this head shot is my favorite Lohan image of all time. Here's Lohan and more of her dirty face makeup. I'm pretty sure this head shot is my favorite Lohan image of all time. Header from February 11th, the photos below were taken yesterday. Pics thanks to Splash and WENN.