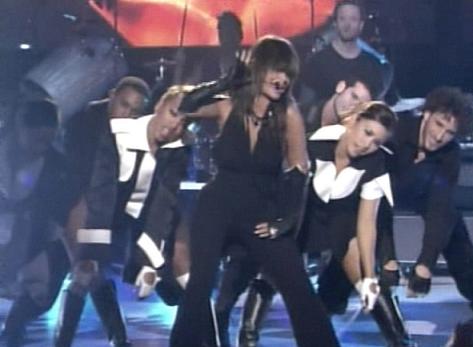 I was less than impressed (but not really surprised) by Paula Abdul's pre-Superbowl performance yesterday. What really surprised me was how many people were annoyed and disappointed that she lip synched her new song, "Dance Like There's no Tomorrow." I generally expect that if there's any significant dancing, the singer probably isn't really singing. And her old songs - while fun - never exactly sounded like her natural voice to me. It always sounded like she was getting some digital help, like about a billion other singers. Supposedly former pop stars Britney Spears and Nsync never lip-synched through their tough performances back in the day. I can't vouch for Britney Spears, but there's an oh-so-slight chance that I caught an Nsync concert or two back in the day. You know, out of pity for younger friends. They huffed and puffed into their microphones enough that I will consider the possibility that they did really sing. But Paula Abdul hasn't been trudging through two hour performances three times a week for months on end. I doubt her body would be up to it. The fact that she was able to still dance like that is pretty incredible.

Paula Abdul gave Britney Spears a run for her money during a shocking half-time performance at this years Super Bowl.

Visibly lip-synching, the American Idol judge looking sufficiently awkward in her what can only be described as a cringe worthy attempt to reclaim her 90s pop star fame.

Fellow idol judge Randy Jackson joined the now 45-year-old Abdul on stage - playing bass in her latest song, Dance Like There's No Tomorrow.

[From Entertainmentwise]

One thing to consider when you're most famous for judging others is that people are going to be pretty harsh on you. And though Paula is generally the most charitable critic on American Idol, people are going to expect that she jumps high over the bar she sets for everyone else. I thought everything about her performance was fine - it just wasn't spectacular. Or even interesting. "Dance Like There's no Tomorrow" - which was produced by fellow "American Idol" judge Randy Jackson - pretty much sounds like all of Paula's older songs. She wasn't trying to come out with a new sound - and sampling "Forever Your Girl" at the beginning of the performance didn't help. I would guess that if her new single gets any airplay, it'll be more due to the novelty factor that anything else.

Picture Note by JayBird: Images thanks to Splash.