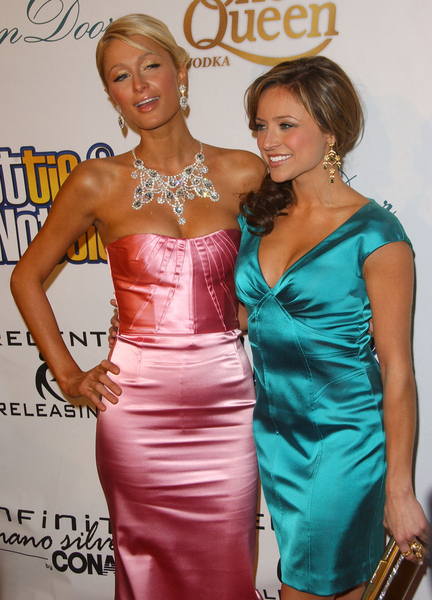 Paris Hilton has been photographed kissing women in the past, but recently, she has really stepped up her fake lesbian game- she's been seen kissing galpals Elisha Cuthbert and Brittney Gastineau just this month. Sources say her foray into gayness might be part of her agenda to land a role on the hit Showtime series, "The L Word." It's a steamy, soap-opera style drama about beautiful lesbians living in Los Angeles, and Paris sees it as a way to legitimize her acting career.

Following her makeout session with Elisha Cuthbert, Paris Hilton will appear in an episode of the Showtime lesbian drama The L Word.

"Once the strike is over, we are going to start talks, but I am definitely shooting it," she told Usmagazine.com at the L.A. premiere of her comedy, The Hottie and the Nottie.

So will she play gay for pay?

"I don't know yet," she said.

For now, Hilton is content being an actress, but she told Us she is open to directing.

"Maybe one day, but right now I just like being in front of the camera," she said.

[From US Weekly]

I'm not sure how to feel about this. I love "The L Word," and I don't want Paris and her dreadful acting contaminating it. I mean, have you seen "House of Wax?" Hopefully, this will be a one-time deal; a simple case of stunt casting in which Paris plays herself. There is a character on the show who is currently in jail- if the writers have a sense of humor, having Paris involved in that storyline could be good for a few laughs.

On the other hand, at least Paris is publicity-whoring for a reason this time, instead of just wanting attention. That's progress for her, right?

PICTURE NOTE BY CELEBITCHY: Paris is shown with her costar Christina Lakin at the Hottie & the Nottie premiere last night. Unfortunately MSat and I didn't coordinate our stories and there's another Paris story coming up that I wrote.