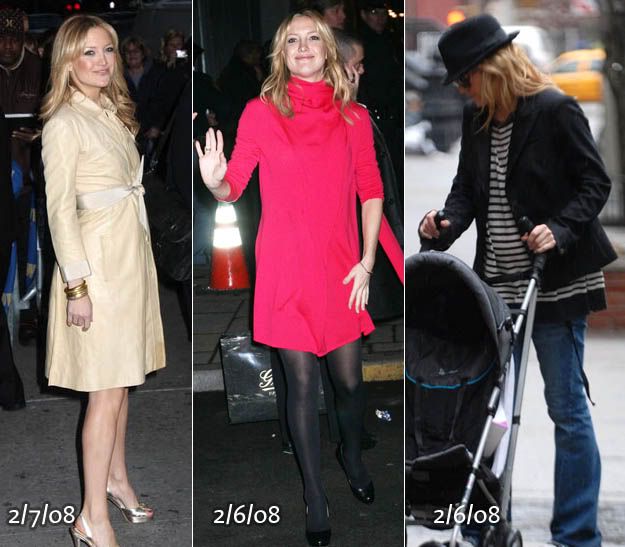 After seeing recent pictures of Kate Hudson and watching video interviews for Fool's Gold, I am convinced that she's pregnant. She hasn't worn a form fitting outfit at all this month from what I've seen and her face is looking a little more filled out. I'm not bashing her for gaining a small amount of weight if that's the case, but she really looks pregnant to me. If she's not, she should wear outfits that don't make her look pregnant.

We were guessing that she was pregnant when she showed up at the premiere of Fool's Gold last week wearing an unfortunate loose blue dress with a giant assymetric ruffle. It was a case of a couture gown that didn't translate well off the catwalk. Her dress ballooned at the stomach, and many people attributed the bump that was seen to the wind blowing out her dress. Kate was at Madonna's Gucci Kabbalah fundraiser Wednesday night, but she didn't pose for photos on the red carpet was only pictured leaving, again wearing a very loose pink dress

There are some candids of Kate out with her son, Ryder, earlier on Wednesday and she's wearing a giant striped shirt and it really looks like she has a bump. (There are more photos from this series at PopSugar.)

Outside her appearance on The Late Show last night she wore a trenchcoat and it looks like it's pushed out a bit in the right places. I'm waiting to see the video of her interview, but how much do you want to bet she wore a loose dress again? (Update: She really looks pregnant in the video, watch it below.)

There's going to be a lot of guessing as to who the father might be as Kate has not been linked to anyone lately, except for a rumored fling with Justin Timberlake.

On January 31, Kate's rep responded to our request for comment with an e-mail stating "Kate is not pregnant."

UPDATE: Thanks so much to Redlasso for this clip of Kate Hudson on The Late Show last night. Redlasso is this incredible new video service that lets you find almost any television clip almost as soon as it's aired.

Her interview is cute as anything and she tells a lot of stories about the dangers she faced training for the underwater scenes in Fool's Gold. Kate has such a vibrant and fun personality.

She is wearing a really loose dress with ruffled layers. We rest our case.

UPDATE 2: Thanks to commentor "Britney is crazy" for pointing out that Kate wore a more form-fitting dress on Regis & Kelly on February 5 and didn't look that pregnant. Here's the clip, it's just the beginning where she stands. I guess the verdict is still out on this one.

Thanks to PRPhotos for the first four photos. The rest are from Splash News.