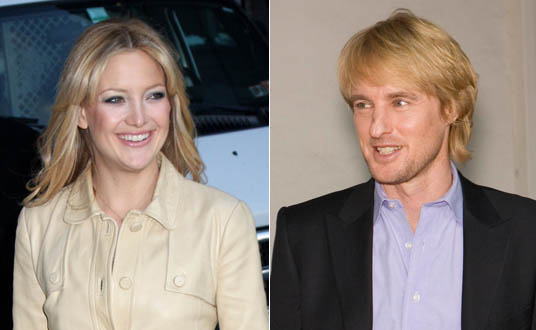 The National Enquirer ran an item a short while ago claiming that Owen Wilson had fallen off the wagon and was calling Kate Hudson and trying to win her back. Now they say that he spent the night at her house and that they're back together but are wisely trying to keep it from the public.

Owen spent the night at Kate's Pacific Palisades home recently before jetting off to Hawaii, The Enquirer has learned exclusively.

"Owen has been secretly meeting Kate since the beginning of the year - at first for 20 minutes here or there, but the visits gradually became longer, revealed an insider.

"Then Owen ended up spending the night at her place.

"Owen and Kate are back together, but they're not ready to take their relationship public."

[From The National Enquirer, print edition, February 18, 2008]

The Enquirer adds that "insiders" are speculating if Kate Hudson is pregnant, and we were all over that on Friday. Hudson hasn't been seen out in a form-fitting dress in some time and it seemed like something was up. Commentors pointed out that she did wear a fitted dress and skirt to an appearance on the Regis & Kelly show, and she wore a lovely tight gown to the BAFTA Awards this weekend, which seems to put a rest to that rumor.

According to The Enquirer, Owen's drinking is under control now despite his relapse, and they say that Kate is helping him work through his issues. The article's supposed source claims that "they are taking things slowly," but that Kate "is the one true love of his life."

We'll have to wait and see if this one is true, and the evidence is sketchy. These two had an on and off relationship and were very low key about it until Kate showed up at an after party for the premiere of Owen's movie with his brothers, "The Wendell Baker Story," last Spring. They broke it off shortly afterwards. Although you want to hope they can make it work, those type of relationships rarely do unless one person makes a major change in their life. It seems like Owen had a transformative experience after the trauma he went through last year and maybe he has changed enough to make it work with Kate - if he even hooked up with her again.

Kate Hudson is shown below at the BAFTA Awards yesterday, not looking pregnant. Owen Wilson is shown in the header at the premiere of "The Wendell Baker Story" in March, 2007, and Kate is shown in the header outside the Late Show on 2/7/08, thanks to PRPhotos.