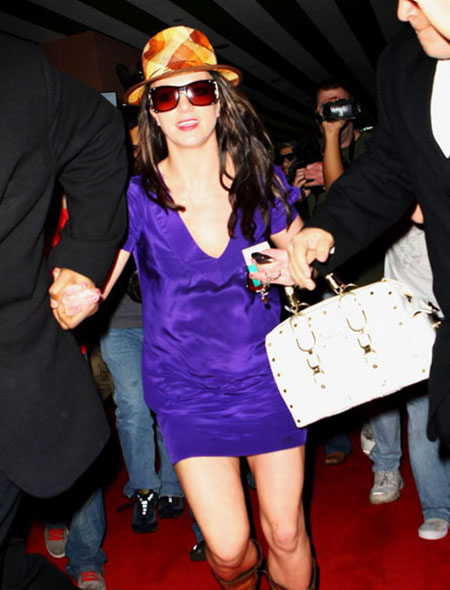 Britney's father isn't taking any chances with his daughter's tenuous mental health. Access Hollywood is reporting that Jamie Spears plans move in with his daughter to ensure that that she is under constant supervision and is protected from the predators and paparazzi that may have hastened her her recent break down.

Access Hollywood's insider also claims that a guardian who will also serve as a sobriety coach will move in with Jamie and Britney to help ease her transition back to a more calm lifestyle. Britney also suffers from the effects of what is thought to be abuse of prescription medication, much of which could have been forced on her without her knowledge by Sam Lutfi. In Touch reports that she had an "intense detox" while in her padded cell in UCLA's psych ward, where she was hospitalized for just under a week.

In our earlier post about Britney we asked what was next for her, because her future outside of the hospital looks bleak as long as she continues on her erratic path. Having her father and a sober companion live with her and try to guide her daily decisions may be a very good compromise between hospitalization and complete hotel-hopping freedom.

Britney's father Jamie works as a chef and said in a court deposition that he was unable to visit his daughter immediately on Sunday when she asked for him due to the fact that he had to cook for a Super Bowl party. At least the guy is working hard and not trying to sponge off his daughter. He was already appointed conservator of her estate and that time, and it speaks well for him that he kept his work commitments. He did visit Britney later at the hospital, and also showed up at the Beverly Hills Hotel last night where she was holed up with Adnan.

It is thought that Britney's father will be in court today to try and enforce some of his authority as conservator of her estate, including not authorizing hotel stays and deciding which visitors she is permitted.