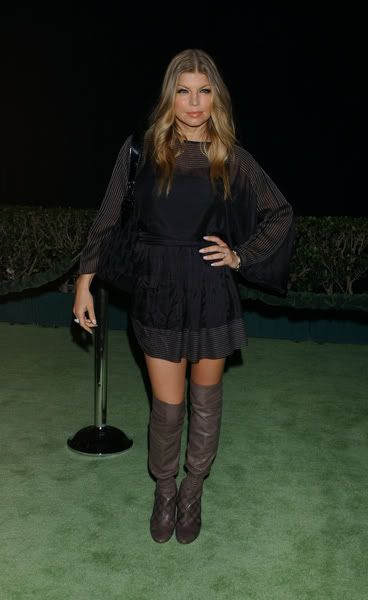 I don't have kids, but I like to think that when I do, I'll be responsible about sex education. And I won't be one of those parents that freaks out about their kid taking sex ed in school. Let's be honest, from grades 2-4, the only reason you get through the years is the knowledge that in the spring of fifth grade, your teacher divides the class into boys and girls and you get special, illustrated pamphlets. I also hope I won't be one of those parents who freaks out when the school says they're going to teach kids how to use a condom by demonstrating on a banana. So while I plan to be totally awesome, I'm not sure I'd be psyched to hear that Fergie is talking to my kids about sex. I just look at her face and see herpes. But good old Stacie Ferguson decided to do a good dead and tell kids they should use condoms.

Singer Fergie took to the stage at a New York high school on Tuesday to teach students about AIDS prevention and safe sex. The Black Eyed Peas star, who was once addicted to crystal methamphetamine, urged the 10th graders at Murry Bergtraum High School to never allow themselves to be pressurized into sex without a condom.

She told the assembled 15-year-olds, "In high school I cheated on my boyfriends - whatever! (But) do you really want that person who's just going to like you if you have unprotected sex?"

Speaking after the event, Fergie added, "It's about building self-esteem. That's what it's going to take for young people to have protected sex. They have to stick to their guns."

[From Starpulse]

I applaud her for sending a message of responsibility… it's just that the messenger is kinda gross. Is she cool right now? I thought 15 year olds listened to Hannah Montana or something. I don't know any teenagers. Don't they think 33-year-olds are out of touch? I'm not saying Fergie is washed up, I just didn't realize kids would respond to her any better than your average Planned Parenthood rep. I guess I've just heard so many unflattering things about Fergie over the years… what with the peeing herself onstage, the crazy over-arched eyebrows and bad makeup… the peeing herself onstage. I'm sorry, but that's just not the kind of thing that should be glossed over. But it's good that she got out there, and it sounds like she spoke in a real way, and hopefully the students responded and will use condoms. And not pee themselves.

Here's Fergie at the 4th Annual Black Eyed Peas Peapod Foundation Benefit Concert in Hollywood yesterday. Images thanks to PR Photos.