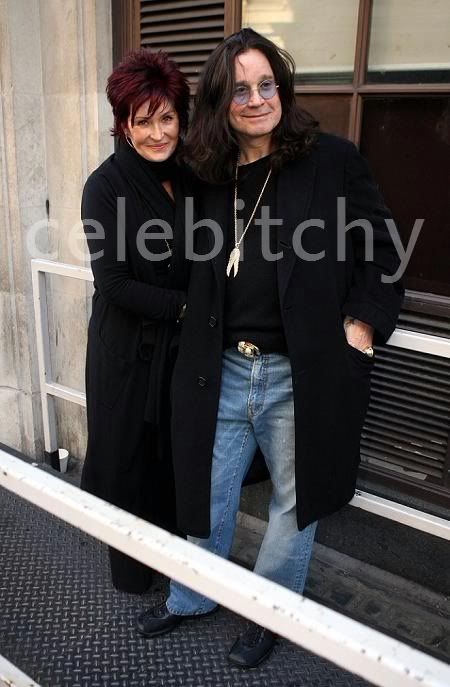 Leave it to Sharon and Ozzy Osbourne to keep things classy. The couple, who are scheduled to host tonight's BRIT awards, have threated to kick Heather Mills off the stage and out of the theater if she dares to show up. And Mills has mentioned that she's thinking of attending. Normally I like to tell the Osbournes to shut the hell up, but in this case it is absolutely alright. Ozzy will be will presenting Sir Paul with the Lifetime Achievement Award. I wouldn't put it past Heather Mills to show up, just to reign on Paul's parade.

Ozzy and Sharon Osbourne have threatened to kick Heather Mills off stage if she shows up at tomorrow's BRIT Awards. The couple, who are hosting the event, say Heather - the estranged wife Sir Paul McCartney - would not be welcome at the London ceremony.

Speaking about the rumors Heather is planning to attend the prestigious bash, Sharon said: "I would boot her off. I think she's a miserable old cow." Ozzy - who will present Paul with the BRITs Lifetime Achievement Award - added: "I'm looking forward to seeing Paul McCartney - he's my hero. The body of work he's got is just unbelievable. But I really don't want to be there if Heather shows up. Never mind McCartney having a go - I think the audience will string her up."

"Sharon and I have met them both her on a few occasions but if Paul doesn't know her, I'm f***ed if I do. She's f***ing nuts."

[From Expo Say]

Normally I'd say Ozzy Osbourne calling someone else "f**ing nuts" is quite the case of the pot calling the kettle black. But in this case it's absolutely true and one hundred percent appropriate. And while it's not exactly classy for awards show hosts to threaten to kick guests off the stage, in this case the Osbournes are just saying what the rest of us are thinking. Part of me absolutely hopes Heather Mills shows up, because you know the Osbournes would throw down. That Sharon has a mouth on her, but she's good at the follow through. I don't really think Ozzy is coordinated enough to do anything, but he can slur menacingly like no other. Please God let there be some kind of physical altercation. I bet you anything Sharon would go right for the leg. I'm not saying that's okay I'm just saying that if I were a betting woman, that's why I'd put my cash.

Header image of Sharon and Ozzy Osbourne leaving BBC Radio One studios after promoting the Brit Awards. Splash notes "Ozzy is said to be performing a duet with Sir Paul McCartney." Images thanks to Splash. Below is Heather Mills leaving day 8 of her divorce hearing on Monday. Images thanks to PR Photos.