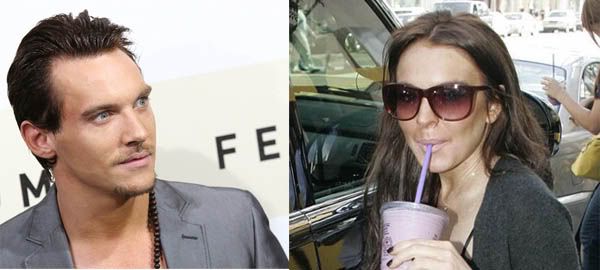 Lindsay Lohan hasn't wasted any time getting involved with whomever happens to be in her immediate vicinity, gender and social status be damned. During a long weekend in Italy this January she was photographed looking cosy with three different guys, one of whom spent the night at her hotel and another sold the story of their lovemaking to a British tabloid.

Since then, Lohan has been linked with some model guy, Brody Jenner, and a billionaire Australian art dealer. I'm sure there are more, and you can throw some women in there - she had a falling out with her live-in girlfriend who moved out of their shared apartment, but there's only so much research I can do for this post.

Now Lohan was seen making out with another rehab graduate, Jonathan Rhys Meyers. Like most of Lindsay's other men, I'm sure this is the last we'll hear of this. Only the unknowns sell their stories to News of The World:

Lindsay Lohan has struck again, and this time her target was recently rehabbed actor Jonathan Rhys Myers. According to witnesses at Villa in West Hollywood on February 2, Lindsay, 21, and Jonathan were getting cozy in a corner of the hotspot just after midnight. The duo was seen partying and were overheard making plans to meet up later at Lindsay's house, although his rep denies they hooked up.

"Lindsay made a beeline for Jonathan, and before long they were making out," an eyewitness reveals. "They didn't seem to be hiding it."

[From In Touch, print edition, February 18, 2008]

I thought Rhys Meyers has a girlfriend he lives with, but I read that they broke up in early December, but were spotted having dinner together afterwards so no one is really sure.

In Touch has another story in that same issue about how Lindsay and Paris might be friends again after a long-running fight over ownership of Stavros Niarchos. Supposedly Lindsay and Paris were laughing and talking that same night at Villa. Their reconciliation seems to have been short-lived, since they were said to have been arguing at a pre-Grammy party as they each vied for the attention of producer Timbaland.

Lohan is still talking crap about how her life has changed since rehab. She told Glamour that "The biggest misconception is probably that I don't have my head in the right place. That, and probably that I'm not a good person. That makes me sad, because actually I am." And to Harper's Bazaar she said "I've learned so much, though, like learning to live my life a different way."

Last night Lohan was seen leaving S Bar in Hollywood.

Lohan is shown with that lovely spray-on tan shopping on 2/11/08. Jonathan Rhys Meyers is shown at the Rome Film Festival on 10/20/07.