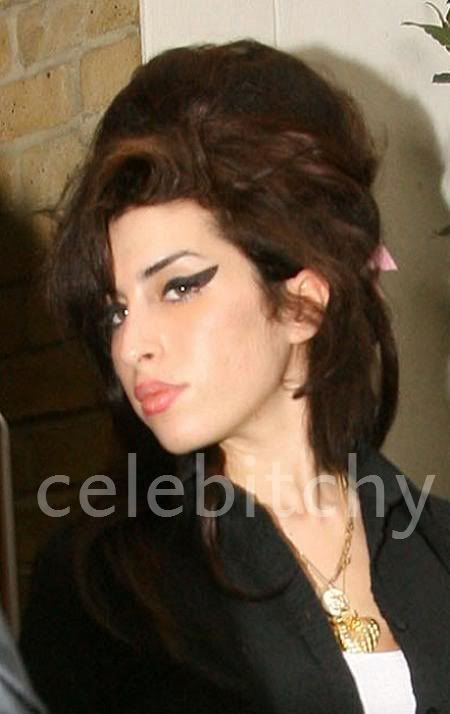 Amy Winehouse is looking as though rehab has been very, very good to her. I've only known of her in the last 8 months or so, and had never seen a photo of what she used to look like. Amy Winehouse can be hot! And she's getting closer and closer to her former self every day. A lot of people gain weight when they quit drugs or cigarettes - remember Pete Doherty's pumpkin-shaped face the last time he actually quit something? While on most people the weight is an unflattering consequence of rehab, on Amy Winehouse it makes a vast and immediately noticeable difference. Her skin looks like it's cleared up remarkably, she seems to have put on 5 - 10 pounds, and much of it appears to have landed in her chest. Oh and her beehive is positively ravishing with nary a nat. Unfortunately, part of the reason we got to see Amy is that she dolled up to visit her loser husband in prison.

Amy Winehouse left rehab today to visit her jailed husband Blake Fielder-Civil.

The star looked healthier than ever as she emerged from the facility this morning in a figure-hugging pencil skirt and black shirt on her way to Pentonville Prison.

A source told Mail Online: "Blake has been very supportive in Amy's recovery. Their relationship remains solid and she's really looking forward to seeing him."

The visit follows a difficult day for Winehouse – she was questioned by police yesterday in connection with a video which allegedly showed her smoking crack cocaine.

[From the Daily Mail]

Well why wouldn't Blake be supportive of Amy's recovery? It's not like he gets to do drugs with her anyway, since he's locked up. What has he got to lose? Of course if he happens to get out of jail, suddenly I doubt he'll be so supportive. This is the second time Amy has been questioned in regards to her infamous drug video. It's hard to say if she'll be prosecuted because of it. Kate Moss was shown snorting cocaine on a tape, and it was eventually ruled that there wasn't enough evidence to charge her. In Amy's case, it certainly helps that she went into rehab shortly after the tape was released, and that she seems to be taking the rehab seriously and - by external appearances - is doing pretty well. I'm not one for a ridiculous amount of leniency like Pete Doherty is always getting (how many dozens - no hundreds - of times has he appeared before a judge?) but in Amy's case she wasn't on probation and hasn't had multiple drug convictions, save for the one guilty plea she copped to in Norway. More than anything I hope she takes her rehab seriously and gets her life on track, because she has a ton of talent.

Picture Note by JayBird: Amy Winehouse makes a stop at a some local shops on her way to visit husband Blake at Pentonville Prison today. Images thanks to WENN.