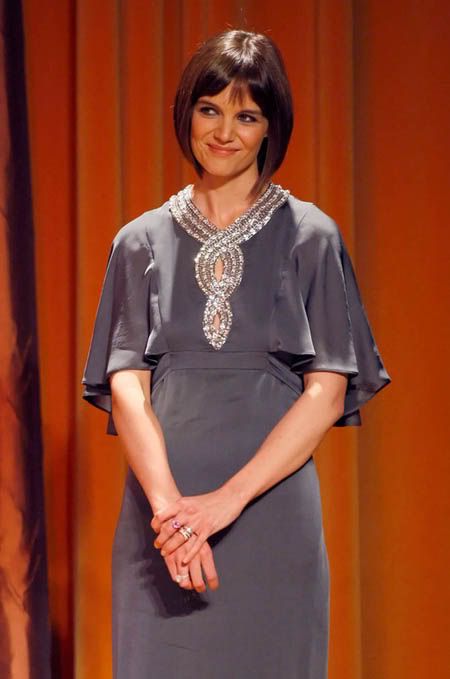 Katie Holmes and her helmet hair made an appearance at the Costume Designers Guild Awards on Tuesday night. She presented the "Swarovski President's Award" to her husband's partner, Paula Wagner. Wagner is the CEO of United Artists and Cruise is a producer and actor for the studio. We were wondering if Katie just slouchy when she appeared at the premiere of her flop Mad Money looking like she either was in the beginning stages of pregnancy or had bad posture. She stood up straight for her solo appearance last night and had a perfectly flat stomach.

The Daily Mail said that Katie has "spearheaded a return to old Hollywood glamour," but a commentor retorted that "I don't recall the old dames of Hollywood a) looking like a skeleton on tranquillizers, or b) showing off their girdle underneath the dress."

It is a lovely dress, though. I love the rhinestone detail on the front and the cut is gorgeous. It's easier to focus on Katie's fashion when Tom isn't around. I still don't like her. She stepped into her Stepford wife role a little too well. You have to give her credit for it though, she really knows what she's doing.

That reminds me - one of the Scientology cults most vocal critics has just "committed suicide". Not that it has anything to do with Katie Holmes and her charmed life.