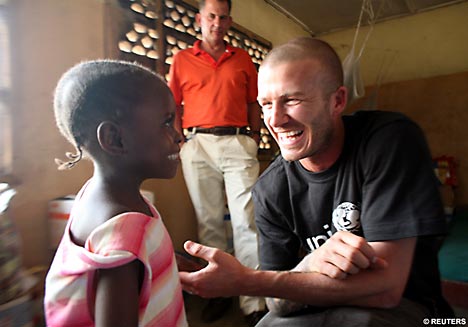 Several websites are abuzz with the news the David and Victoria Beckham may be planning on adopting a little girl, possibly from Sierra Leone. David recently went there on a charity mission for UNICEF. The Beckhams have reportedly been actively involved in several charitable organizations for several years, however they have chosen not to publicize their involvement until more recently. According to Grazia magazine, David's trip to Africa affected him deeply, and the couple are now considering adding to their family.

David spent four days in Sierra Leone in his role as a Goodwill Ambassador for United Nations' children's charity UNICEF two weeks ago. During his trip, David witnessed a birth and gave immunization drops to a newborn baby.

Upon his return to his adopted home of LA, the footballer said: "I was close to tears. I had to step back and take a deep breath. I'm a very emotional person and I'm even more emotional now I'm a parent. But what stopped me crying was knowing that what these kids are going through is far worse than my feelings."

[From the Daily Mail]

Though everyone makes fun of Posh for (presumably) being a little vapid, whenever I've seen David interviewed he's come off as very sweet and affable. I don't find it hard to believe that he really does care about the UNICEF project and was moved by the kids he visited. Whether or not the couple actually want to adopt as a result of that is more difficult to ascertain.

Beckham, according to Grazia, has told friends they are seriously considering adopting following his trip and has sought advice from celebrity pal Tom Cruise, who adopted son Connor and daughter Isabella with ex-wife Nicole Kidman.

The publication quoted a friend as saying: "Adoption is something David has been talking about for some time. If there is one subject that can move him to tears, it's the thought of being unloved, uncared for and with no hope or future. It was only when David started planning his trip to Sierra Leone that they began talking about adoption again. It's clear they both think adoption is great. Tom has talked to David about how adoption changed him and how he's been able to change the lives of two amazing children."

[From the Daily Mail]

Victoria has long said that she'd like a daughter to add to the family, and has even mentioned that she's saving all of her gazillion handbags to hand down one day. I've always been a fan of the traditional heirloom jewelry, but I suppose heirloom purses are better than nothing. And God knows Victoria's got plenty of them. She has also said that having a little girl would complete their family. Though the couple was rumored to be interested in adopting a few years ago, nothing came of it. Perhaps it was something they were interested in and never followed through, and now they're ready to revisit it again.

Picture Note by JayBird: Pictures from David's trip to Sierra Leone. Header of Beckham with five-year-old Senyo, who finds it difficult to walk because her muscles have been weakened by malnutrition.