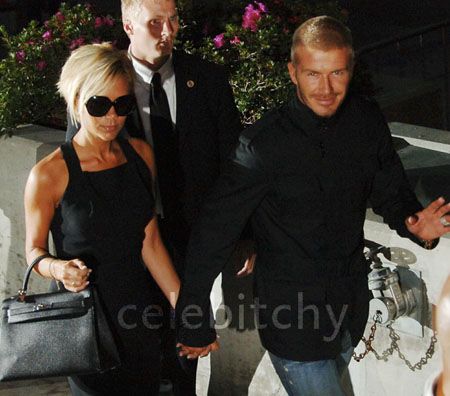 Victoria and David Beckham seem to have one of those rare celebrity marriage that appears to be pretty stable. Though the two have weathered a few storms (accusations have occasionally popped up regarding David's possible cheating on Victoria) all and all they seem to be pretty solid. This could be because they have a lot in common – an intense passion for shopping and acquiring "stuff," sticking their names on various perfumes, buying houses, and being seen at trendy events. I didn't say it was a deep relationship. But it seems to work pretty well for them. The Mirror and The Daily Mail are reporting that their relationship is stronger than ever, and the pair secretly renewed their wedding vows.

David and Victoria Beckham have secretly retaken their marriage vows - and got matching tattoos to celebrate the romantic occasion. Only a handful of friends and family were invited to watch them remarry in the grounds of Beckingham Palace. One said: "We were in tears. It was beautiful and very non-showbiz." The couple marked the big day by tattooing the ceremony date on their wrists in Roman numerals.

Romantic David Beckham arranged his secret second wedding to Victoria without even telling her - springing the surprise on the big day itself. He flew her to their sumptuous Beckingham Palace estate then went on one knee to pop the question for a second time. Stunned Posh gasped: "Yes!" - and the couple were soon retaking their vows attended by sons Brooklyn and Romeo as page boys and watched by a handful of close friends and family.

He organised the ceremony and secretly invited a handful of close friends and family. He even had a beautiful white dress made in Posh's size. A friend said: "David was meticulously planning the big day for months. It was a huge undertaking to keep it all under wraps. He was desperately excited but had had to keep quiet with everyone but his and Victoria's closest family.

[From The Mirror]

The Mirror reports that they took a second honeymoon together in Paris, and David took Victoria shopping at her two favorite stores, Azzedine Alaia and Colette. He told her to pick out whatever she wanted as a second-wedding gift. While that's really sweet, I think what's more special is all the work and thought David put into it. A guy planning a whole quasi-wedding ceremony on his own? And managing to keep it a secret from his wife? That's a pretty big deal, and it sounds like Beckham put a lot of care and thought into trying to make it as special as possible.

A lot of people think it's tacky to renew vows, since a couple already had a wedding and all. Frankly I think that - considering how many marriages end in divorce or fall into a state of unhappiness – there's much worse things than celebrating your successful union, and loving your spouse so much that you want to do it all over again. It sounds like this was a very thoughtful tribute to their relationship and the life they've created together.