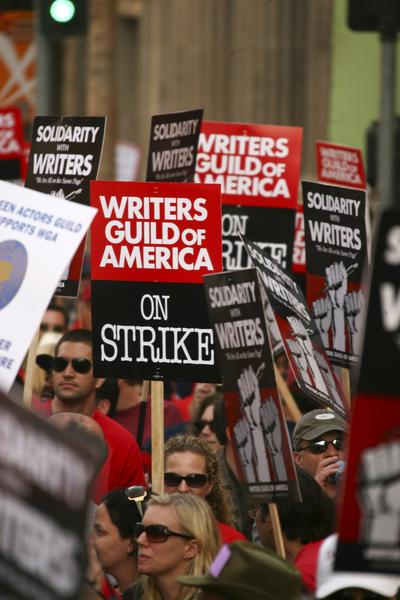 I don't think I am alone in saying that this writers' strike is really beginning to suck for those of us who enjoy intelligent, well-written programs. Don't get me wrong, I understand and appreciate what these writers are picketing for, and I believe they deserve Internet and DVD residuals. However, if I have to hear about the premiere of another stupid reality show, I think I'm going to throw the TV out the window.

While some media outlets are reporting that the nearly three-month-long Writers Guild of America strike is very close to ending, others are saying that it's not even close to being over. The AP has this to say:

An agreement to end the three-month-old Hollywood writers strike could be ready in time to avoid disrupting the Oscars but studios and the union are still haggling over the precise language, two people familiar with the talks said.

The Writers Guild of America bargaining committee and board of directors received updates on the status of informal talks with studio executives, the pair said Monday. They were not authorized to comment publicly and requested anonymity.

One of the people has said a formal deal is possible by the end of this week.

[From The Associated Press]

Let's all cross our fingers and hope that's accurate- although other reports contradict this and say that the strike is still far from over.

Even though most of Hollywood is acting as if the strike is already over, as if the ink just needs to dry on the dotted "i"s and crossed "t"s, the Writers Guild of America's leadership doesn't want its membership to exhale just yet.

During today's upset Giant win, I received this from the WGA's mailing list:

While fully mindful of the continuing media blackout, we write you to address the rumors and reports that undoubtedly you have been hearing.

The facts: we are still in talks and do not yet have a contract. When and if a tentative agreement is reached, the first thing we will do is alert our membership with an e-mail message. Until then, please disregard rumors about either the existence of an agreement or its terms.

Until we have reached an agreement with the AMPTP, it is essential that we continue to show our resolve, solidarity, and strength.

Picketing will resume on Monday. Our leverage at the bargaining table is directly affected by your commitment to our cause. Please continue to show your support on the line. We are all in this together.

[From Wired Magazine]

The LA Times says that the WGA has been presented with a preliminary contract, but are still waiting for the final version. They also say that not all the members are happy with the contract, including the directors who are WGA members.

However, the directors' contract sparked heated debate among members of the writers guild.

Last week, one of the guild's prominent board members, writer-director Phil Alden Robinson ("Field of Dreams") picked apart several aspects of the directors' pact.

"It's my strong conviction that if an unaltered DGA [Directors Guild of America] deal were put before our membership for a vote today, it would fail resoundingly," Robinson wrote in a blog on the United Hollywood website. "If they insist on trying to shove this deal down our throats without improvements, this strike will not end any time soon."

Reaction to Robinson's missive was mixed, with some members supporting his message and others privately blasting him for what they viewed as an inappropriate move for a board member at a crucial juncture in the writers talks.


[From the LA Times]

Right now, the big rush to get a contract approved is to save the Oscars ceremony, scheduled for Feb. 24. I could care less about that- I just want more episodes of "The Office" and "30 Rock." For all of you out there who are missing shows, let's hope this agreement can be resolved soon.

Picture note by Celebitchy. Images are of The Writers Guild of America March on Hollywood Boulevard on 11/20/07, thanks to PRPhotos.