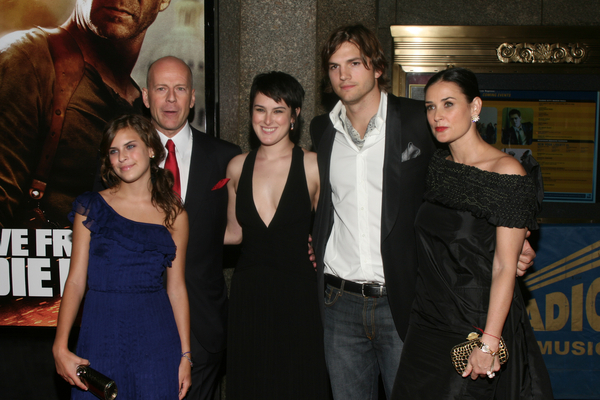 I have been consistently impressed by the relationship between Demi Moore, new husband Ashton Kutcher and ex-husband Bruce Willis. Though you hear a lot of unpleasant things about Moore, you can't argue that she's been pretty mature about her divorce and friendship with Bruce. Some people have said they just do it for the kids, like that's a bad thing. How in the world could it be a negative to keep up a friendly relationship with your kids' other parent? Bruce and Demi are occasionally spotted out having lunch together, so it seems like they are genuinely cool with each other.

This weekend Demi had a birthday party for Ashton's 29th, and keeping to form, the whole family was invited - Bruce included.

Ashton Kutcher's 29th birthday party was nothing if not unconventional.

The Punk'd star rang in the occasion with his wife 45-year-old wife Demi Moore - and her ex husband Bruce Willis.

The unlikely trio dined at a LA restaurant on Saturday, along with Demi and Bruce's children Rumer, 19, Scout, 16, and 13-year-old Tallulah Belle.

Far from being uncomfortable, Ashton and Bruce, 52, appeared to revel in each other's company and even indulged in a moment of playful wrestling.

[From the Daily Mail]

Demi recently commented on the transition the entire family went through when she and Ashton got married. She was incredibly generous in her descriptions of what everyone went through. "It wasn't a piece of cake. It wasn't automatic or easy. It took diligence and effort and even enduring awkwardness, and a lot of general giving on my part and Bruce's part. And really, tremendously, on Ashton's part." Though their family unit is certainly unconventional, can you imagine how much better a lot of divorced kids would feel if their parents had been that cool with each other? Though Bruce and Demi's daughter Rumer gets a lot of crap for her appearance, you generally don't hear about their daughters much in the media. And frankly if any celebuspawn of parents that famous were misbehaving, you know the paparazzi would be all over it. It shows that being decent to each other can only do good.

Picture Note by JayBird: Here's the family (minus Scout LaRue) at the Live Free or Die Hard premiere. Images thanks to PR Photos.