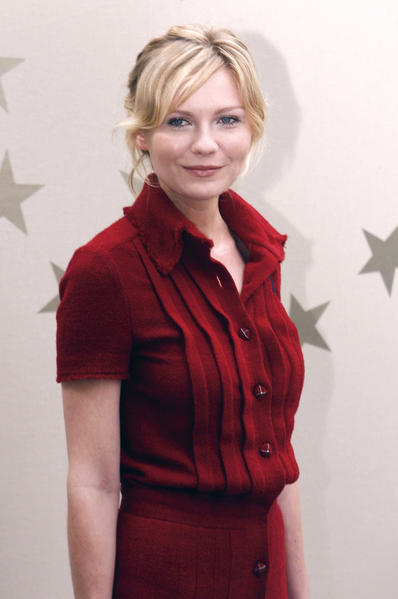 Everyone was all atwitter with the news that less-than-beloved Spiderman actress, Kirsten Dunst, 25, was reported to have checked into the same rehab facility in Utah where Lindsay Lohan received treatment, Cirque Lodge. Eva Mendes was even there, and it seemed like she provided some circumstantial evidence that Kirsten may have shown up by taking a break from rehab right around the time Kirsten was reported to have arrived.

The news originated on the Star Magazine website and then was picked up by other outlets, including People, which said that a source confirmed the news, adding that she's been weepy and unhappy lately. She was said to have been encouraged to go to rehab but People's source stated that no one close to her staged an intervention.

Dunst's rep has not commented on this story to any outlet, but did say that "Kirsten is Fine" when an earlier story on the NY Post had her about to have a breakdown at Sundance. E! Online reports that they contacted the Cirque Lodge, who denied that Kirsten is there. While you might think that they're just trying to protect a high-profile client, it sounds like a categorical denial because the Lodge director specifically said that it's not a case of trying to preserve a patient's confidentiality and that she really isn't there. That was stupid, because now you know when they say "we don't comment" that it means that someone is there.

While reports are running rampant that the Spider-Man heroine has checked into the Cirque Lodge treatment center in Park City, Utah, a rep for the facility has denied to E! News that the actress is being treated by the facility.

"Nope, not true," said Gary Fisher, the lodge's director of operations. He added that while the facility prides itself on refusing to comment on the comings and goings of celebrity patients, Dunst is definitively not, and never has been, at the center.

[From E-Online, thanks to Virgina for the tip]

So if Kirsten Dunst isn't at Cirque Lodge is she at another rehab? You can't put much faith in Star's stories, but if it isn't true at all, then People seems culpable too because they claim that the story is supported by a source. But you think if Kirsten was home and fine she would have either gone somewhere public to show the world she's not in rehab, or she would have released a statement through her rep saying that the story was false. It seems like something is up with her, but at least we know that she can't be blamed for Eva Mendes' furlough.

Dunst is shown on 10/5/07 at Paris Fashion week, thanks to PRPhotos. I feel bad for her so I'm using pretty pictures.