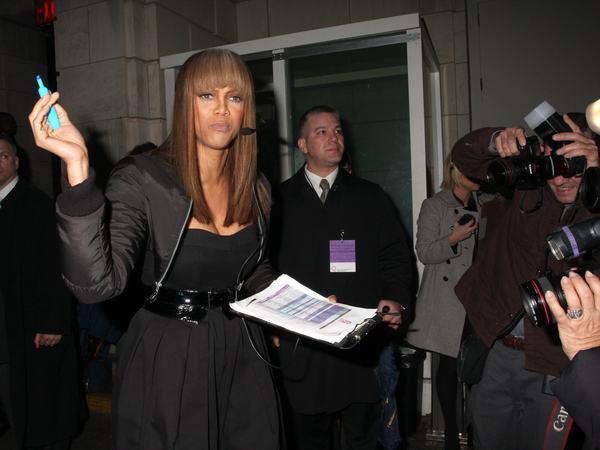 We just got an e-mail from a guest on The Tyra Banks show who said that she was treated very rudely by Tyra's staff and had an awful experience. She said:

Just found your Webside and read about how cheap Tyra Banks is..and I have to agreeMy 11 year old daugher and myself have been on her Show last week,and we got lied to and humiliated.Tyra is a fake and very mean,she is so cheap we did not get to meet her befor or after the Show and my Child who idolises her did not even get an Autograph!!!!! How rude.

[Sent via e-mail. We will not publish the sender's first name until we get confirmation that it's ok.]

This guest of Tyra's isn't the only one who was left feeling used and humiliated after an appearance on Tyra's show. Despite all the female empowerment Tyra preaches, there are other guests who also felt hurt and betrayed after an appearance on her daytime talk show, one of whom was a cancer victim who was forced to sign a non-disclosure agreement when she complained to staff.

39 year-old single mother of two, Jodi Hughes, has stage 4 cervical cancer and Lupus. She was on Tyra's show for a scheduled makeover set up by her children. Her kids were not allowed in the studio when she was getting the makeover, and were left to sit on the curb for hours without ever being fed or checked up on. Her ten year-old boy is even legally blind. Hugh's makeover was just a new dress, makeup and very painful hair weave that left her with severe complications. She was told exactly what to say about how Tyra made her feel like a woman again, but all she felt was tired and used. Then she got dropped off at the airport with her kids eight full hours before her plane left.

Jodi, who lives in Bettendorf, Iowa, says things went bad the minute they stepped off the plane in Los Angeles to tape the show.

Jordan, 17, and Nick, 10 - who is legally blind - were left sitting on a curb outside the studio lot for hours with no food, no phone and no money while Jodi underwent her "transformation" - which included nothing more than the services of a professional makeup artist, a new dress and a cheap, painful hair weave, she says.

Tyra's producers scripted her lines for the show, Jodi says. "The producers told me to say: "Thank you, Tyra, for making me feel like a woman again.' That was the most humiliating part."

[From The National Enquirer, print edition, February 18, 2008]

Hughes had to get the extensions surgically removed in the emergency room when her scalp became infected. She said she spent months growing out her hair after chemo and that the extensions ruined it. She may not have had it the worst though, there was another makeover recipient on the show with her, a woman with handicapped arms. Her prize for going on the show was a purse! Hughes is quoted as saying "All they kept telling her was: 'You should be grateful - that's a $500 purse!'"

Hughes was a guest on Tyra's show in 2006, but she wasn't able to tell her story until now. When she complained about it, she was served with a gag order from Tyra's lawyers that kept her from talking about her terrible experience for a full year.

This makes me so mad I cannot tell you. It only takes some common courtesy to make sure people are fed and comfortable before they go on your stupid television show. Just talk to the kids, make sure they get subs or some soda and sandwiches, and let them sit inside. Ask the guests if they want extensions in their hair before you do it. And for God's sake don't give a purse to a woman without arms! That's asinine.

Tyra Banks is shown at fashion week on 2/4/08, thanks to PRPhotos.