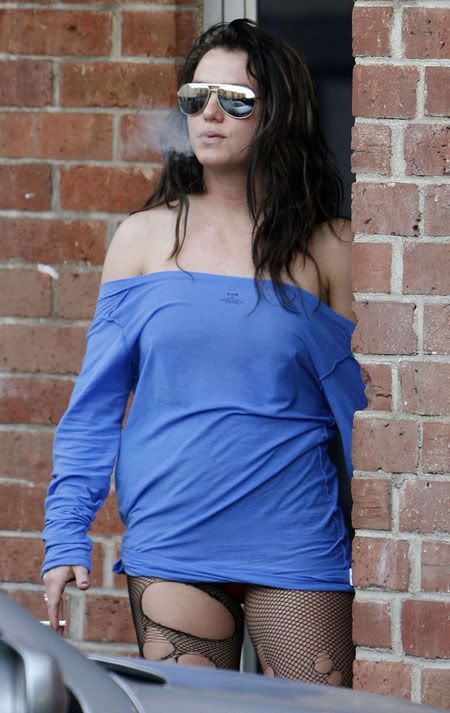 Britney's best buddies, who have insisted that they were hanging around with her because they care about her well being, seem to have moved on now that her family has control of her finances. Both Alli Sims and Sam Lutfi, who were nobodies until leeching onto the mentally ill popstar, were seen around Hollywood, hob-nobbing with celebrities as if they were actually famous themselves.

Alli Sims was seen partying with Canadian pop singer/pretend punk rocker Avril Lavigne. The odd pair was photographed hitting the clubs in LA over the weekend. Alli was also seen at Paris Hilton's 27th birthday party.

Avril Lavigne showed up to Hyde last night with an interesting sidekick -- Britney Spears' former assistant/cousin, Alli Sims. Alli's become quite the starf**ker lately; she was spotted at Paris Hilton's birthday party Saturday night as well -- ah, the Simsful life.

[From TMZ]

Don't be surprised if we see Cousin Alli suddenly riding shotgun with Avril, accompanying her on shopping trips so she can get more designer goodies for free. Of course, we might also see her sneaking margaritas into a car, or using Avril to launch her own singing career or reality show.

Meanwhile, amateur psychologist and pharmacist Sam Lutfi, who is barred from seeing or contacting Spears, has hired his own PR mouthpiece and was spotted at Paris Hilton's party as well. There are also new reports that Lutfi has been hounding Britney's business manager, Howard Grossman, demanding money for his services as Britney's manager. The nerve!

In a declaration filed in the Brit conservatorship case, a lawyer for the conservators accused Sam Lutfi of demanding money from poor Brit.

Attorney Jeryll Cohen wrote, "During the telephone conversation, Mr. Grossman [Brit's business manager] told me that he had numerous e-mails from Osama (Sam) Lutfi in which Mr. Lutfi made various demands, including demands for money. Mr. Grossman told me he did not comply with Mr. Lutfi's demands."

Cohen and the other lawyers have asked the court commissioner to let the conservators fire Mr. Grossman, in part because they say he has refused to provide copies of Lutfi's e-mails to them.

[From TMZ]

Apparently, Lutfi and Sims are almost as delusional as their former meal ticket. Do they actually think they are celebrities now? They'd better get in those last few parties while they can- their 15 minutes is just about up.

NOTE BY CELEBITCHY: Alli Sims has actually known Avril Lavigne for quite a while, and has been seen out with her multiple times prior to when she was linked to Britney. I don't think she's without her own motivations, she's trying to launch a singing career after all, but I wouldn't put her in the same category as Lutfi by a long shot. Britney seemed to be doing ok when she was hanging out with her, in comparison.

Here's Britney outide of the Millenium Dance studio having a smoke on 2/9. At least she is getting some exercise even if she's dressed like that and all. That story that she had her hair done for four hours at her house must have been an exaggeration or her hairdresser was incompetent. I guess when you don't have much to work with there isn't much you can do. Get better Britney.