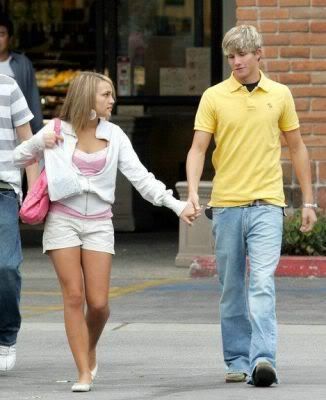 Something tells me the Spears clan will never get much peace. Whenever things start to seem like they're getting just a teeny, tiny bit better, something happens and they get five times worse. It's kind of a one step forward, two steps back situation. Though Jamie Lynn Spears seems like the better off of the two sisters, that's not really saying much. Who hasn't got their stuff together when compared to Britney? The three legged dog I saw hopping down the street yesterday has got its life together - and a lot more going for it - than Britney Spears. After all, that dog may have a plastic sheet lining the floor of his crate, but he doesn't have padded walls. While Britney is getting all the attention, pregnant 16-year-old Jamie Lynn is having a lot of drama of her own.

For the last few months sources have been saying that mother Lynne Spears and Jamie Lynn have not been getting along so well. Lynne took Jamie Lynn back home to Kentwood, Louisiana after she announced her pregnancy - presumably to keep her away from prying eyes. Jamie Lynn's been laying low and hasn't been photographed much, but there have been several reports that Lynne has barred Jamie Lynn from seeing her baby's dad, Casey Aldridge. Some articles are saying that Jamie Lynn wants to marry Casey, while others say she just wants to be with him. Regardless, it seems a little late to keep the two from each other. Not much has been said about what Casey's role will be in his child's life, but it seems like it'd be a good idea to keep good relations between young new parents. Supposedly Jamie Lynn has become so frustrated with Lynn that she's going to move to California to live with her father, Jamie Spears.

"Jamie Lynn is moving to Los Angeles to live with her dad," an insider told the Enquirer. "She wants to be settled in before the baby is born in March or early April — and she wants to be closer to film projects she'd like to start after giving birth."

But Jamie Lynn's plans to become a working mom aren't the only reason Britney's little sis decided to go west. Lynne's decided that the teenager's baby daddy, Casey Aldridge, is off limits.

"Jamie Lynn loves Casey and wants to marry him, but her mom is dead set against it," an Enquirer source said. "Jamie Lynn knows that once she's out from under her mom's thumb in Kentwood, she and Casey will be together."

Lynne also worries that once her little girl's in Los Angeles, she'll fall under another negative influence — Lynne's older daughter Britney! "Jamie Lynn knows Britney smoked and drank during her pregnancy — and because Britney's boys turned out fine, Jamie Lynn thinks her baby will be fine too," the source confided. To be continued

[From MSNBC]

If I were Jamie Lynn, I wouldn't just assume that I'd get to do whatever I wanted by moving in with my other parent. Supposedly the reason Jamie Spears was put in charge of Britney's medical/legal care is that Lynne has trouble saying no to her - and Jamie doesn't. Unless he fundamentally disagrees with Lynne about Casey, you would think that the move wouldn't really facilitate easier access to the boyfriend. If Jamie Lynn wants to move for her career, that's certainly not a bad idea. I'm guessing what she really wants to do is move to California and get settled with the baby, and then probably get emancipated so she can have access and control over her money. The combination of being Britney Spears' younger sister and all the publicity from her pregnancy has certainly raised Jamie Lynn's profile. I'm guessing she won't have a hard time finding work - though probably not on child-friendly networks anymore.

Picture Note by JayBird: Jamie Lynn has been pretty camera shy lately. Here are some older photos, including pictures with boyfriend Casey Aldridge.