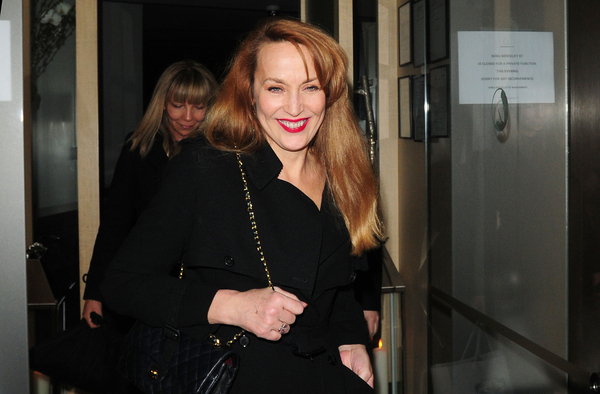 51 year-old former supermodel Jerry Hall isn't above resorting to cheap tactics used by younger tarts to get attention. She ran into her ex common law husband, Rolling Stones frontman Mick Jagger, at a party earlier this month and pulled up her dress to show him that she wasn't wearing underwear. For his part Mick, 64, was said to be initially shocked, but then laughed off the incident. He has a younger, but still age-appropriate, girlfriend and he knew that Hall was just messing around. Hall and Jagger have four grown children together and probably have a friendly relationship.

Even though Jerry agreed to annul her marriage to the rock star nine years ago, the former supermodel, 51, still is hot for 64-year-old Mick, pals say.

And when the couple -who have four children together - both showed up at a party at London's Nobu restaurant in early February, 6-foot-tall Jerry flashed her famously long legs to reveal she'd "gone commando!"

"Jerry was wearing a black below-the-knee dress and black stockings," said an insider. When she flashed Mick, at first he was shocked, but then he laughed it off."

Texas-born Jerry is aware the wrinkly rock has been romantically involved with 43-year-old designer L'Wren Scott - who stands a towering 6-foot-4 - for the past six years, says the insider.

[From The National Enquirer, print edition, February 25, 2008]

I remember seeing Jerry Hall in a 2005 reality show on VH1, "Kept," in which younger guys competed for a chance to be her boy toy. The winner said that he never saw Jerry again after the show and claimed that he didn't even kiss her and that "She was a little too old for me."

Hall is currently the spokesperson for erectile dysfunction drug Levitra, and manufacturer Bayer released a press release saying that she will "encourage men and women globally to 'Strike Up A Conversation' and openly discuss erectile dysfunction with each other and their healthcare professionals."

Hall is known for the quote "My mother said it was simple to keep a man, you must be a maid in the living room, a cook in the kitchen and a whore in the bedroom. I said I'd hire the other two and take care of the bedroom bit." She still seems to be working that angle in both her personal and professional life, to mixed results.

Jerry Hall is shown on 2/5/08 outside a private dinner, thanks to PRPhotos.