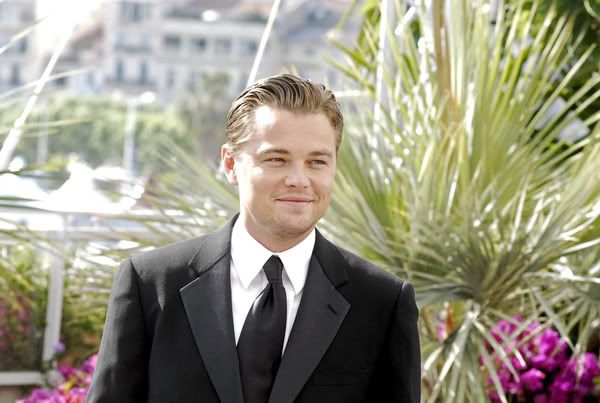 Leonardo DiCaprio was spotted out at dinner with a fair trade diamond dealer, and since we can assume he's no longer doing research for a role he must be planning on getting engaged to his on-again girlfriend, Bar Refaeli, right?

Now that Leonardo DiCaprio's romance with model Bar Refaeli, 22, is back on, he's shopping for diamonds. Leo, 33, had dinner with a diamond dealer who specializes in fair-trade gems at Madeo restaurant in West Hollywood on January 17, according to a witness. "Ever since starring in Blood Diamond, Leo has become sort of an expert on the industry," his pal explains.

[From In Touch, print edition, February 11, 2008]

DiCaprio is also considered an expert on environmental issues, and has been invited by the Green Party of Scotland to speak before their Parliament. They are anxiously awaiting a response.

DiCaprio was among the stars in the audience at the friendly Democratic debate between Barack Obama and Hillary Clinton in Hollywood on Thursday. Other stars in attendance were Diane Keaton, Rob Reiner and Stevie Wonder.

I don't see DiCaprio getting engaged at this point, especially considering how low-key he's been in his relationship with Refaeli. We'll have to wait it out and see what happens.

Leonardo DiCaprio is shown in the header image at Cannes on 5/19/07. Bar Refaeli is shown modeling lingerie on 10/18/07, thanks to PRPhotos.