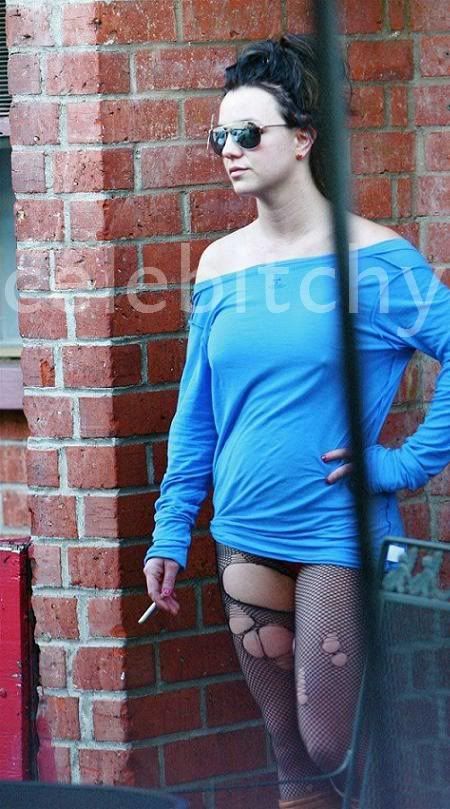 It's hard to say to what extent Britney Spears' dad Jaime Spears is helping his daughter. He seems to be treating her like a four-year-old… which I can't really say is a bad idea. Remember that time you hit your sister a little too hard with that plastic hammer from your play toolkit, and your dad took the whole toolkit away? That seems to be what Jaime Spears is trying to do to Britney. Supposedly he's trying to get the court to order that she can't drive, can't check into hotels, can't have access to her credit cards - now, horror of horrors - can't wear the infamous pink wig! I don't think he's actually going to court for that last one; it appears Jaime just took it away. X17 has photos of him carrying a pair of jeans, a top, , what looks like a pillow, a legal pad, and… drum roll… the wig! Everything looks kinda grimy, probably because it's Britney's. Hopefully it's all going in the trash.

Britney Spears' father has confiscated her notorious pink wig in an apparent bid to straighten up her act. Jaime Spears was seen carrying the singer's toupee, which is synonymous with the singer's wild image and partying, at the weekend in LA. Celebrity website X17online speculated that the hairpiece could have been confiscated by Mr Spears, who has been supervising his daughter since she left a psychiatric hospital last week. The bobbed wig has come to signal the onset of a depressive episode, with her ousted manager Sam Lutfi revealing last month: "When the pink wig comes on, it's getting bad."

The troubled star, who checked herself out of the UCLA Medical Centre earlier this week, was spotted wearing torn fishnet tights and exposing her underwear while on a cigarette break at the Millennium dance studio in Hollywood. Looking bedraggled, the bra-less 26-year-old skipped out of rehearsals to smoke and adjust her torn fishnets in full view of waiting photographers. She was escorted by a burly new bodyguard, who was reportedly hired by her parents to keep a constant watch on the wayward singer.

[From the Daily Mail]

I have a list of requests for changes I'd like Mr. Spears to enforce under his conservatorship.

1. Make Britney stop biting her nails. I'm sick of seeing nails down to the bone with two specks of nail polish on them. She's 26 for crying out loud.

2. No more animal prints. They don't flatter anyone.

3. No more tights with continent-sized holes in them. In fact, no more tights.

4. Pro-Active. It worked for Jessica Simpson and P-Diddy.

5. Bras! Look, we understand that putting in and pulling out multiple implants will make a boob sag. But a properly-fitting bra will at least keep us wondering to what degree they sag, instead of knowing for sure.

6. Pants. 'nuff said.

7. No more Hanes Beefy Tees worn inside out and backwards. While inside out and backwards may be a perfect metaphor for Britney on the whole, it does not look awesome on the aforementioned braless frame.

8. Take away the cigarettes.

9. No more Starbucks. That amount of sugar isn't helping the crazy.

Thanks Mr. Spears. I'd ask you to make her be a good mom and a nice, regular person, but let's be real, you're just her conservator, not a miracle worker. So if you could just make her a little less offensive to the eyes, that's all I can realistically ask for anymore.

Britney Spears smoking outside of the Millennium Dance Complex in North Hollywood. Jamie Spears arrived to pick Britney up on Saturday. Images thanks to WENN.