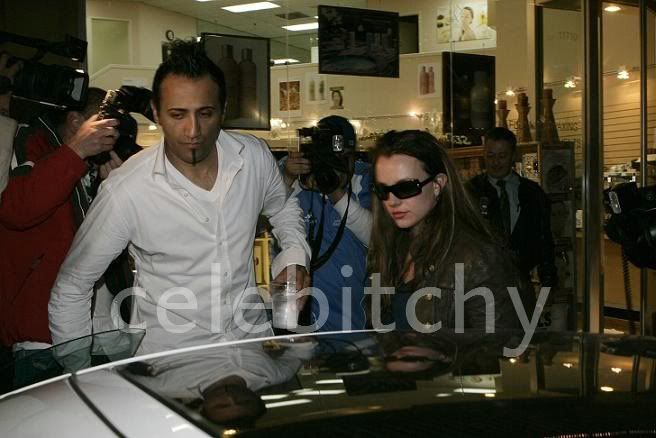 So Britney somehow hired a new lawyer to represent her in court to challenge the ruling that her father be made conservator of her estate. The judge ruled against Britney's side, saying that her father, Jamie, can remain in control of her finances and all medical decisions regarding his daughter until February 14th.

Britney's lawyer, Adam Streisand, who is said to be Barbara Streisand's second cousin, requested that Northern Trust bank and Howard Grossman, who is Britney's business manager, be appointed instead as Britney's conservators. He argued that having her father run her estate is unnecessarily frustrating for Britney. His request was denied and the judge said that Britney wasn't even mentally competent enough to have hired Streisand to represent her. She will presumably be represented by a lawyer appointed by the court. That court-appointed lawyer visited her in the hospital on Sunday and told the judge that she's not capable enough to understand the legal case or to have hired her own lawyer. A physician will examine Britney to determine her level of competence and report to the court on February 13.

The lawyers for Britney's father, Jamie, wanted to have Britney's legal team of Trope and Trope, who are said to be aligned with Sam Lutfi, fired. That request was not granted and Britney can retain their services. It's not clear why they did not represent her in this specific case and how she obtained a different lawyer.

The judge addressed the restraining order against Lutfi, saying that the order is that Britney have absolutely no contact with him, including phone calls or e-mail. She is rumored to have been talking to him on the phone. When the conservators of Britney's estate tried to serve the restraining order personally to Lutfi yesterday, he refused to open the door.

There was also yet another custody hearing for Britney and K-Fed on Monday. It was said to have been scheduled before she was hospitalized for this second time. The verdict is that there will be no changes for now and that she cannot see either of her boys. Britney's legal reps in the custody battle wanted to request that they be taken off the case, but have withdrawn that request given their clients extreme recent problems.

Meanwhile Britney's paparazzi boyfriend, Adnan Ghalib, attempted to visit her in the hospital bearing roses. He was seen looking upset while leaving about 20 minutes later, and OK! Magazine reports that it is unknown if he was actually able to see her.

Details from People, AP, TMZ, and OK! Magazine.

Header image from 1/22/08 from Splash News.