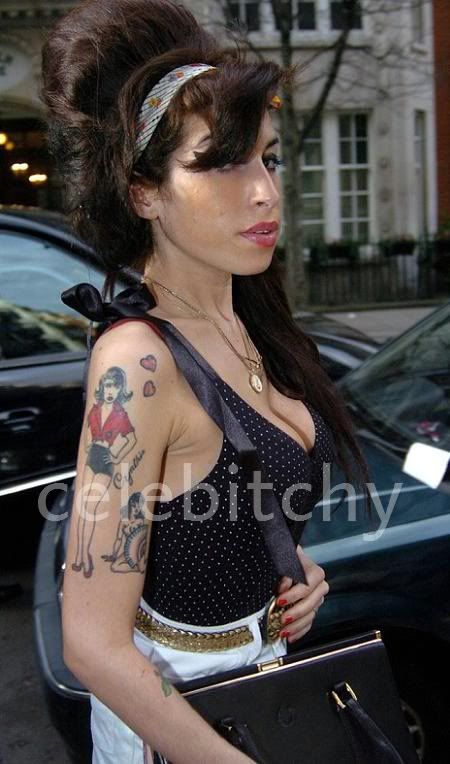 Amy Winehouse's rehab seems to be coming along nicely, everything considered. Although she had to be taken to the hospital last week and put on an IV due to dehydration, she's stuck with rehab so far. Her previous record was something like four days. Amy has just completed her eleventh day. The carrot at the end of her stick? The hopes of being able to obtain a travel visa and go to the US so she can perform at the Grammys. Winehouse is also nominated for three awards: album of the year, record of the year, and song of the year. Amy was allowed to leave rehab today and was awarded a travel visa, though it came with several conditions.

Amy Winehouse is set to go to the Grammys, a source close to the singer confirms to Usmagazine.com. She briefly left a London clinic this morning to go to the U.S. embassy to renew her visa, her rep tells Us.

"Yes, that's true," the rep says.

Her father Mitch told reporters that she has since returned to the clinic and "has not left for good."

A source told Us that Winehouse, 24, "is desperate to go and has been told she can go on the condition that she has a minder there and returns to rehab when back in the U.K."

[From Us Weekly]

Amy is nominated for her single "Rehab" for record of the year and song of the year. That'd be a pretty ironic win. I'd love to hear what she'd say in her speech. She's the only songwriter listed for that track on the Grammy's website. I always assumed she'd gotten some help with it - but if anyone knows how to write and sing about rehab - and refusing to go to rehab - it's Amy Winehouse. I'm not sure if her winning a prestigious award for a song she wrote about refusing to treat addiction would be a good thing or not, given where she is right now. But it's through actually going to rehab that Amy is able to receive the award if she gets it. Oh the layers of irony.

Picture Note by JayBird: Here's Amy as she briefly left rehab to get her visa today. Images thanks to Splash.