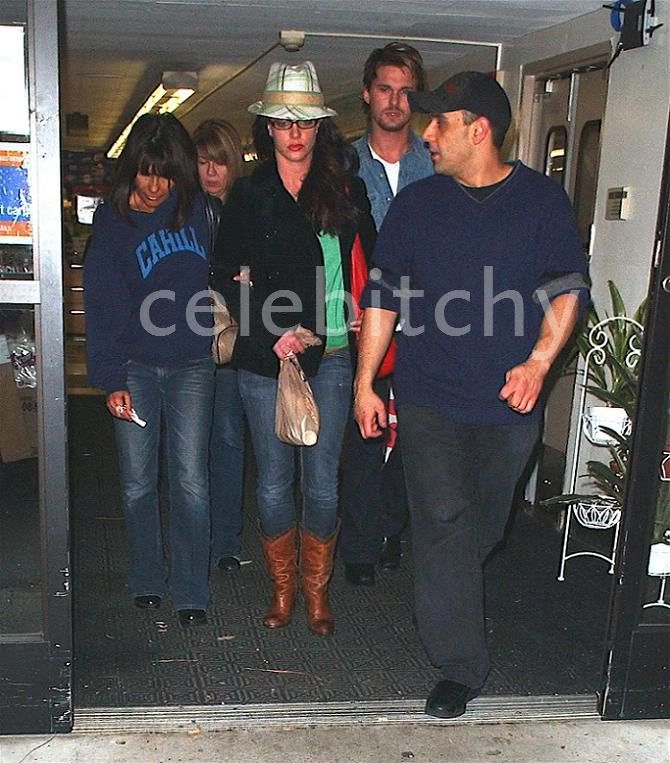 Britney's father Jamie has been granted temporary conservator of her estate and medical affairs by judicial order yesterday. This means that he has control over Britney's finances, and all medical decisions regarding his daughter. A lawyer has been appointed by the court to help oversee Britney's estate and ensure that her father handles it well.

Britney's friend and maybe manager, Sam Lutfi, has been shut out of her life by her family, who obtained a restraining order for 22 days of the "Civil Harassment" type, according to OK! Magazine. The court has ordered that she is a "flight risk" and "at risk for kidnapping" and that she must stay in California until the next court date of February 4. Jamie Spears could possibly be made the "permanent conservator over his daughter's affairs" at that hearing.

This was said to have really pissed off Britney, and somehow TMZ has privileged information from inside her hospital room. She was supposedly overheard yelling loudly in a British accent and expressing her anger at the situation, saying "Nobody's taking my house. Who is my family?"

How this information got out is questionable, and given the amount that Lutfi has been talking to the press I wouldn't put it past him to leak this. She also supposedly said that she would go to court to fight the order, and OK! says "sources close to Lutfi confirm" that Britney has only authorized visits to her hospital room from her cousin, Alli, and Sam. Sam is not allowed anywhere near Britney at this point due to the restraining order. There are guards posted outside her room and security is high at the hospital.

On Monday there could be a hearing requested by Britney's divorce attorneys, who are aligned with Lutfi, challenging the court-granted control of her estate to her father. But her father, as conservator, could easily fire the firm that sides with Lutfi.

Meanwhile Lutfi is still talking to the press, telling US Magazine all about his feud with Britney's family and continuing to disclose details of her medical condition. He called Britney's family crazy and didn't hesitate to talk trash about them, calling them "hillbillies" and making it sound like he's Britney's savoir:

"Oh boy, her family is crazy!" Lutfi told Usmagazine.com in a telephone interview Thursday, the same day the singer was taken to UCLA Medical Center. On Friday, Spears' parents hit L.A. Superior Court to seek to control their daughter's medical treatments.

"It's funny because that's what the doctors say when they meet the family," he added. "They always come back and say, 'You know, [her problems] are inherited, right?'

"It's just so sad. It's shared equally from both of her parents."

He told Us the singer doesn't "trust anything that her family says? Not a g---n thing."

He said they have tried to stage multiple interventions and that Thursday's move was "at least their fourth" attempt.

When the singer heard Lynne had arrived Sunday night, Lutfi said Britney asked him, 'Is my mom really here?' I said, 'Yeah, she's here.' And she's like, 'Oh great, you know they're up to something.'

"They show up to the house like hillbillies, texting me," Lutfi continued. "I find out that they're outside, and they go, 'You better let me in the gate, you ass.' So I go, to Britney, 'Your parents are here, let them come in and yell at you and scream at you. If anything else goes on, I'll throw you in my car and take you out of here.' She said, 'OK, fine, baby.'

"I let them in. Instead of going to see how Britney is, they come bouncing through the doors. They scream at me, 'Why the f--k are you talking to Barbara Walters?' I swear to God that's all they were saying.

"The dad pushed me in the chest and said, 'Get the f—k out of here.'

"The dad gave up and then the mom tried to talk to her, but Lynne was like, 'I gotta get my beauty sleep, I gotta get my nails done, I gotta do my hair.' It was just so sick. We made the mom stay."

Lutfi said the singer suffers from "mixed state bipolar" and has had it for "roughly five years." (A person suffering from "mixed state bipolar" experiences symptoms of mania and depression at the same time.)

[From US Magazine]

Yesterday JayBird wrote an article giving Lutfi more credit than I think he deserves. She said that Lutfi is the one who managed to get her medical treatment, and to me he seems all too willing to tell everyone about it. This guy has a history of controlling behavior, and has had up to three restraining orders against him by other "friends," one of whom described how he turned on him and made threats against his family. He also sent threatening text messages to Britney's new boyfriend warning him to stay out of her life.

Now Britney's father is in control of her estate and you can't blame her for being angry about it if she hasn't had a great relationship with her family.

She's been spending money like crazy, though, and she needs someone to take care of her finances for her because she's wasting everything she makes in a month and purchasing new homes and cars constantly.

There is so much drama in Britney's life and all this fighting among people who presumably want to help her is not making her recovery any easier. It's not like you expect Britney's family and her jealous friend to get along, but maybe if they weren't so concerned with controlling her and were focused more on how to work together to help her she would have the space and calm she needs to get better. With Britney, though, it's not like she was about to get help unless someone really convinced or forced her to. There's sure to be a lot more to this story as these two sides continue to battle it out.

The header image is of Britney visiting Longs Drugstore with her mother Lynne Spears, Sam Lutfi and Chad Hardcastle at 1:30 in the morning on January 29th, thanks to WENN for the photo and JayBird for the description.