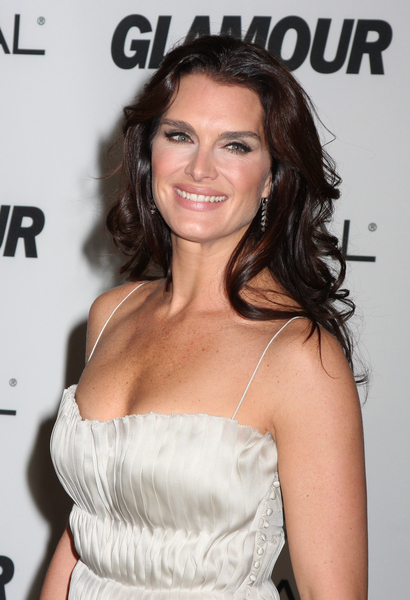 Brooke Shields has a new interview in the upcoming issue of Parade Magazine in which she talks about the issue a lot of us face as the years slide by; she says she thinks she's younger than she is:

"I keep thinking I'm younger than I am," the Lipstick Jungle star, 42, tells Parade magazine in its new issue. "The other day, I was working with a photographer to recreate an image we had done years ago. When I saw my face, I kind of went, 'What is that?' I assumed I was going to look the same, and I didn't. It was a shock to my system."

Still, the vibrant actress identifies with young characters for which she'll read scripts – even if her husband, Chris Henchy, 43, thinks otherwise.

"Sometimes I'll read a part and identify with the material, and I'll say, 'Oh, honey, I really like this,' " Shields says. "He'll look at me like I'm crazy and ask, 'What's wrong with you? You're not in your 20s. You seriously think you can walk in there and get this role? It's going to a 24-year-old.' "

Nevertheless, Shields enjoys a busy life. Besides her TV series, there are daughters Rowan, 4, and Grier, 22 months.

"I'm really proud of my kids, I'm excited about my job, and my marriage is not suffering. It's not easy, but it's not falling apart," she says. "This is the first time in my life that everything is exactly the way I want it to be."

When I heard this story I was like "Bingo!" because this has been happening to me the last few months and I thought I was the only one. Even though I try to hide it on myspace and facebook, I'll be honest and let you know that I turn 35 next month. I've been looking at myself in the mirror and thinking "Where did the time go?" and "Who is this person?" because in my mind I'm still late 20-something. So good for you, Brooke Shields, for being honest about it. A lot of us think we're younger than we are. You don't have to have an acting career to feel old.

Brooke Shields is shown in the header at the Glamour Magazine 2007 "Women of the Year Awards" on 11/5/07, thanks to PRPhotos. Here's are pictures of her as a young girl. She's still gorgeous.