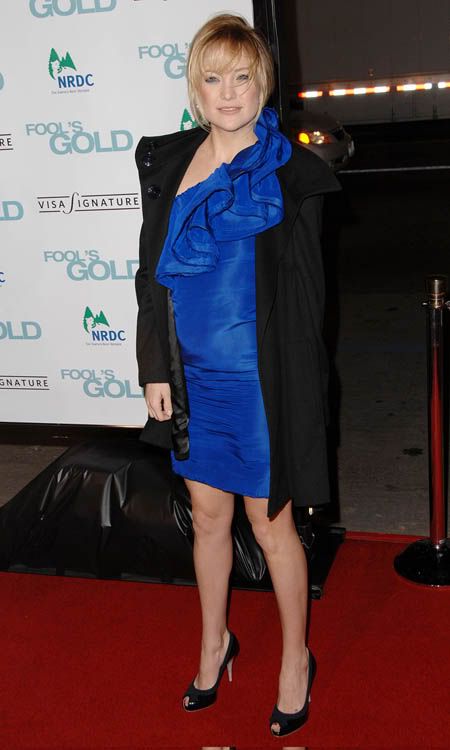 Kate Hudson chose an unfortunate cobalt blue dress with a giant asymmetric ruffle for the premiere of her new romantic comedy Fool's Gold. Her co-star Matthew McConaughey's girlfriend, Camilla Alves, is over three months pregnant and rocked a short black dress with feathers at the hemline that made her look less pregnant than Kate Hudson did.

Kate's dress looks like it's gathering at stomach, creating the illusion that she has a bump when she might not. What is with that dress and her matronly up-do? Maybe the outfit looked better on the runway. It was very windy that night and that must have thrown off the look she was going for. Alves' was seen laughing as she tried to keep the wind from blowing her skirt up, and Hudson also took the windy weather in stride, laughing and trying to keep her coat on.

When I first saw these pictures I thought Kate was pregnant, but this is a conclusion I often jump to when a celebrity wears an unflattering dress. Looking at other images, she doesn't look quite as pregnant and could be the victim of an overzealous stylist. It's interesting to note that she also wore a loose dress to the SAG Awards.

Fool's Gold is out in the US on February 8. It an adventure romance about a divorced couple in search of treasure. Here's the trailer:





Thanks to PRPhotos for these pictures of the premiere last night. The header image is from Splash.

UPDATE: Hudson's rep has not yet responded to a request to comment on this story. We will let you know if we get a response.

UPDATE 2: Hudson's rep told us in an e-mail that "Kate is not pregnant."