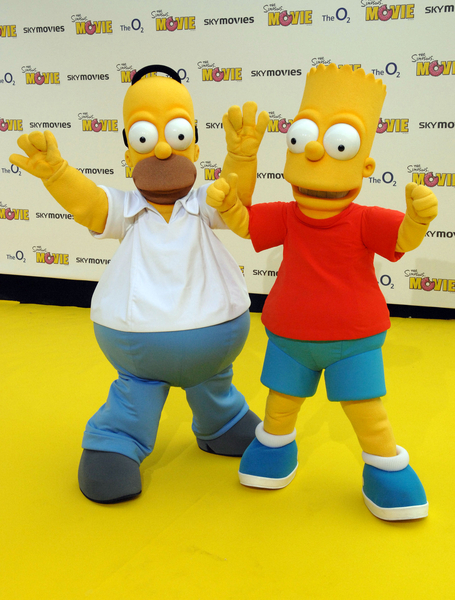 Who knew Bart Simpson was so religious? So pious? So into volcano aliens? Well it turns out Bart is kinda neutral on the whole thing; but his voice, lent to him by actress Nancy Cartwright, is one of Scientology's biggest donors. She even out donates Scientology golden son Tom Cruise - giving double what Tommy gave. And in Scientology, dollars equals devotion. So Nancy clearly loves Xenu twice as much as Tom - even though she doesn't get close to half the attention. According to Page Six - which got a hold of "Impact," the Scientology magazine put out by the group - Nancy Cartwright donated $10 million to the church's Global Salvage effort.

Surprisingly, Nancy, 50, forked over twice as much as the Scientology's most prominent member, Tom Cruise, who only gave $5 million in an installment plan. In 2004, the 46-year-old Lions for Lambs actor was awarded a Platinum Meritorious Award for a $2.5 million gift. Two years later, he doled out another $2.5 million, for which the International Association of Scientologists kicked him up to Diamond Meritorious awardee.

Recent Scientology publications reveal that a host of A-list Scientologists were honored for their generosity at a black-tie awards ceremony at the church's headquarters in Clearwater, Fla., last summer. PageSix.com obtained copies of Impact magazine, which feature images of the various gold trophies, crystal statuettes and plaques "awarded to members who have donated" the respective amounts of money.

The Simpsons star (above) appears in a photo at the event with fellow Patron Laureate Awardees Steve Brackell and Jack and Lucy Murphy, as well as Church of Scientology leader David Miscavige. Kirstie Alley matched Tom's donation, but fellow actors John Travolta and wife Kelly Preston donated just a million each. Former Mrs. Elvis, Priscilla Presley, kicked in a relatively paltry $50,000.

[From Page Six]

Who knew Priscilla Presley was so cheap? She probably had to save some money for some more cheek implants. The Global Salvage effort that Nancy Cartwright donated to sounds like a worthy cause, right? It's got a pretty important sounding title - who wouldn't want to salvage things from the globe? Wait, what? Yeah it sounds like a really worth cause with an important name, but the Global Salvage effort's whole purpose is to "de-aberrate" Earth. Don't you love that crazy Scientology lingo? Essentially the point is to rid the planet of psychology and all "aberrant" behavior. That sounds like a really bad plan to me. Think how many crazies would be running amuck. Think how many Scientologists could use a really good analyst. Can you imagine what Tom Cruse might be like if he had the benefit of a good shrink twice a week? That's right, Oprah's furniture would still be in good working order.

Picture Note by JayBird: Here's Nancy Cartwright at The Simpsons Movie Premiere on 7/24/2007. Images thanks to PR Photos.