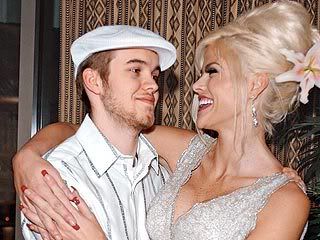 The inquest into the death of Anna Nicole Smith's son Daniel has resumed. Though he died sixteen months ago, the inquest has been plagued by delays. The essential point is to determine how Daniel Smith died and if anyone was responsible for his death. His autopsy blamed a fatal combination of prescription drugs. However the inquest's purpose is to figure out if it was accidental, suicidal, or if someone killed Daniel. A lot of suspicion has fallen on creepy Howard K. Stern, Anna's "partner" - though it seems that they were likely never romantically involved. After Anna died last spring, the inquest was put on hold again. However they've been working at a steady pace the last few days, and have taken testimony from several of Anna's friends.

Several of Anna's associates have described Daniel as a boy who was painfully shy and somewhat embarrassed by his mother.

Ford Shelley, the son-in-law of G. Ben Thompson, a former boyfriend of the reality star and the developer who owned the Nassau home Smith and Howard K. Stern resided in the months leading up to her death, told the Coroner's Court that the 20-year-old boy was a "brilliant" child who had for years been "living in a shell" as a result of his mother's overshadowing fame and larger-than-life public persona.

"He wanted to break free," Shelley said. "He loved his mother but didn't want to be known as her son."

[From E!]

Shelly denied that Daniel could have had a drug problem, noting that he "couldn't even hold his liquor" and was "afraid of his own shadow." Shelly noted that after Daniel died, he saw Howard K Stern find two white pills in the pockets of a pair of Daniel's pants - which Stern quickly flushed down the toilet. Shelly said that he knew Daniel had recently broken up with his girlfriend and had a history of serious depression, but that he did not think he was suicidal. However the director of the medical examiner's office in Miami-Dade County (where Daniel's toxicology tests were performed) said it was likely an "intentional ingestion" due to the sheer quantity of drugs.

While eight different drugs, a combination of antidepressants and stimulants, were found in Daniel's body at the time of his death, "clearly the methadone was the key in understanding this death. But for the methadone, he would not have died."

[Dr. William Lee] Hern further claimed that, while he could not know for certain whether he did so deliberately or unintentionally, the large amount of drugs taken by Daniel in such a short amount of time—a onetime dosage of four pills rather than one, possibly diluted in a drink—lent itself to "a high degree of probability" that the overdose of drugs was "an intentional ingestion."

"Based on the amount in the stomach, it was not an attempt to get high," he said. "It was enough to kill him, with some left over unabsorbed. If what was in his blood hadn't killed him, the remainder would have continued its toxic effect."

[From E!]

I never though Daniel's death was accidental, it was just a matter of speculating whether he killed himself or Howard K Stern did it. Whenever I considered the possibility of suicide, I couldn't help but think about the timing. When you're 20 years old, an only child, and admittedly very close to your needy mother, it must be incredibly bizarre for her to suddenly have a brand new baby girl and be shaking up with an evil guy. I thought Daniel might have been suicidal depressed because he perhaps thought he didn't matter to his mother as much as he used to. I would think a lot of things were changing in his life, and that'd have to be a shock to the system. It never occurred to me that he obviously had his own life and own issues, and breaking up with a girlfriend can be really hard - especially when you're just 20 years old. It can feel like the world is ending.

The issue of the methadone still remains incredibly suspicious, considering it played a role in Anna's death a few months later. Being a lawyer, you'd think that if Howard K Stern were involved in some way, he'd be smart enough not to use methadone twice. But he's never struck me as a particularly intelligent fellow, at least to hear him speak in interviews. So at this point we know that Daniel Smith's death was caused by an "intentional ingestion" of drugs. What remains to be ruled is whether foul play was involved.